So I've tried to make my previous Venetian gowns to varying degrees of historical accuracy, always with some concessions for theatricality and for the fact that the Renaissance is not my toe-curling era (that would be 18th c., where I completely geek out on trying to do things 1000% accurately).  This time around, I am trying to make some aspects even MORE historically accurate (shoulder straps; wider CF opening at the bodice waist; contemplating a cartridge-pleated all-the-way-around skirt, but I haven't decided), and there are other aspects that I'm going for accurate look, theatrical method.
Specifically, this applies to the bodice.  Another member of my Renaissance singing group (Bella Donna), Jenn, is a mad sewing demon.  She has one of those super left brains that is totally analytical and engineering focused, and she's come up with some really fabulous construction methods for these dresses — not only has she made a number for herself, but she's also made them for other members of our group.  She's all about making it look gorgeous but making the construction/wearing as practical as possible; in fact, she has a giant zipper down the front of her stays, and has incorporated a hidden zipper into at least one of her gowns.  (Confession time:  I was contemplating putting a zipper in my newest corset for this outfit, and then Linda told me that our friend Judith was mock-horrified that my standards were slipping — so all those hand sewn eyelets are for you, Judith!).
So!  The point of all this is that I am using her method for bodice construction.  Two things she's figured out that work really well:  1) Jen of Festive Attyre (another Jen!) was one of the first people to attack these dresses, and she came up with a cool method for keeping the center front lacing straight (see her first post in her dress diary).  I used this method in my first two gowns and it worked well, but Jenn/Ruby Raven found that the two rows of lacing strips plus spaced 1/4″ boning meant that the bodice crumpled (mostly on the interior) in between the lacing strips.  What Jenn/Ruby Raven has done that's worked so well is to make one wide lacing strip — she used a piece of cotton twill tape, I didn't have any on hand so used some petersham from my stash — supported by a wide 1/2″ bone.  So the lacing area is still wide, but it's supported throughout by a wide bone underneath.
What I did was to baste the petersham down so nothing got squidgy, then used a water soluble marker to draw out the lacing channels.  Of course, after I took this picture I realized that I'd done some mismeasuring, so I had to redraw these a few times.  Then I sewed the horizontal seams of the lacing channels, removed the basting, and sewed vertically down the petersham in between the lacing channels — which means that the lacing channels are open, but there's no chance of accidentally sticking your lacing needle into the wrong slot, because the non-lacing-channel sections are closed.
Jenn/Ruby Raven attaches the 1/2″ bone to a separate piece of fabric (she suggested a twill), which goes from the CF opening and extends about 4″ into the bodice.  This then gets laid in between the lining and the interlining/fashion fabric.  She's found that her underside doesn't pull, and she doesn't need to attach the boning/fabric the boning is sewn to to anything else.  I tried this, and found that the lining still pulled forward and you could see the petersham/lining: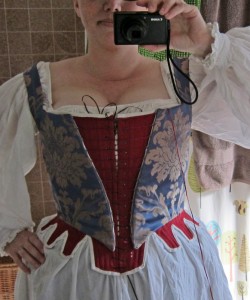 So I accepted fate and handsewed a channel on the other edge of the boning, through all layers including the fashion fabric, to keep things in place (you can see the handsewing on the finished lacing channel pic above), which I'll now have to cover with trim (altho in the period, they had to do this too):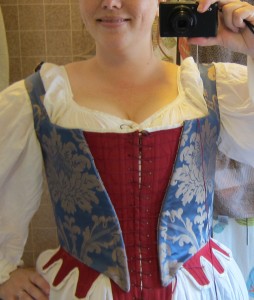 But I do think this method is cool, because on my other gowns I DID get some weird crumpling on the lining around the lacing strips, and now I don't have that on this version.
I found that the shoulder straps stretch given that they're on the bias, so I ended up having to take off 1″ from the front strap to keep things from totally falling down: