When the Titanic set sail in April 1912, her first class passengers boarded  with trunks full of expensive, beautiful clothes.  Most had probably been custom made in Paris, London, or the United States in the previous year.  March and early April were a transitional period during this era, with winter over but spring styles just beginning to be announced in Vogue.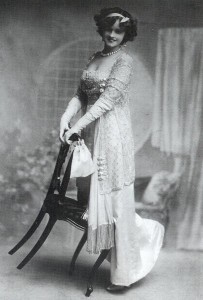 Dinner on the Titanic was the most elegant event on the most luxurious ocean liner, thus first class passengers would wear the most formal option for dinner attire.  For women, this consisted of an evening gown, no hat, long white gloves, kid leather or satin shoes to match the gown, opera bag, fan, and scarf.  Gentlemen wore white tie, consisting of a tailcoat, white pique waistcoat, and bow tie.
The early years of the 1910s were an era of transition in fashion for women.  As the Edwardian era waned and the Art Deco era approached, women's silhouettes shifted from the voluptuous S-bend (small waists, large bosoms, and curved rears) to a straighter, lighter line that seemed more natural and modern to contemporaries.  Beginning in 1908, designer Poiret led this new look which featured narrower bodices, slim skirts, and raised waistlines.  Inspired by the Ballets Russes, designers infused the new look with an Orientalist aesthetic — rich fabrics in vibrant colors that followed the cut and drape of Asian garments such as the kimono — while simultaneously referencing the Directoire period (1795-99).  Other important designers of the era were Paquin, Lucile, Doucet, Fortuny, Lanvin, and Callot Soers.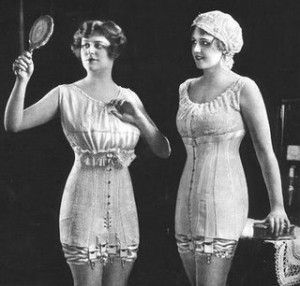 Beneath their gowns, women wore corsets that began under the bust and extended well down over the hips.  Because the goal was a long, columnar line, corsetry was less focused on restricting the waist and more on smoothing the hip.  Underneath, women wore combinations (shift and drawers merged into one garment) or long, princess line chemises. "Bust bodices" or "brassieres" supported the bust.  These look somewhat like corset covers — sleeveless, white cotton garments — and ended anywhere between the bottom of the bust and the waist.  They could be boned or unboned, depending on the amount of support needed, and provided a soft foundation that was higher than the Edwardian monobosom, but still lower than our modern silhouette.  In order to maintain a slim silhouette, underwear was trimmed with flat bows and bands of lace.
Evening dresses were made of delicate, sheer fabrics embellished with beads, lace, or other trimmings that floated over a silk underlayer.  The general outline for an evening dress would be an an underdress and tunic effect (matching bodice and overskirt).  Bodices featured short sleeves; V necklines were most common, but deep Vs with a horizontal inset, round, and square necklines were also worn.  Surplice/cross-over bodices were also popular.  Waistlines could be placed anywhere between just under of the bustline and the natural waist; the high waistline was popular from 1908 through 1912, while the natural waistline was just starting to come into fashion.  The waistline itself was loose and softly defined with a sash or belt.  Most dresses included two skirts, one "tunic" skirt that matched the bodice that usually ended between the low hip and the knees, and one ankle-length trained underskirt.  The underskirt was generally slim, with the tunic overskirt comparatively fuller.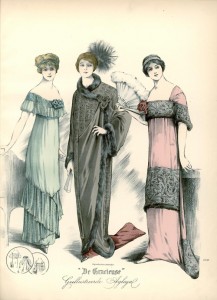 Construction of evening gowns included two key points not immediately visible: the bodice lining and/or the staybelt.  While the gowns of the period look diaphanous and draped, they are mounted to a fitted cotton bodice lining that is often boned, which supports all those floating fabrics.  Made of cotton webbing or grosgrain/petersham ribbon (I recommend petersham) anywhere from 1.5-4" wide (the wider ones fitted with darts), the staybelt provided a further fixed foundation to attach all of the various layers.  Bridget Conlogue's article on sewing dresses from this era has excellent explanations of this and other period construction techniques. Evening gowns generally closed in a Z formation:  the bodice closed center back, then along the left side back waistline, and then down the left side hip.  If such a closure seems confusing, check Nancy Bradfield's Costume in Detail — she has some very clear diagrams that will unconfuse you!
Evening gowns were made in light and/or sheer fabrics for the tunic layer, with a solid light- to medium-weight fabric for the underskirt.  Fabric suggestions include:  organdy, charmeuse, chiffon, tulle, crepe, crepe de chine, and lightweight versions of velvet, velveteen, satin, and brocade.  Popular evening gown colors were pale:  steel blue, pale blue, lemon yellow, cream, pink, and white.  However, the new influence of orientalism introduced stronger colors like black, royal blue, and emerald.  Purple was generally avoided for evening dress, as it looked brown in gas light. It was in style and trimmings that the vogue for Orientalism was most apparent.  Evening dresses generally had some focal visual element such as pleating, asymmetrical draping, beading, embroidery, or brocade fabric.  Additionally, lace insets, lace trim, and fringe were used as trim.  Decorations were often placed asymmetrically.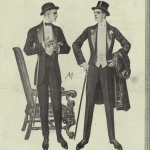 Men's fashions were changing as well.  The thick, barrel-chested styles of the Edwardian era were on the wane, with a new silhouette that focused on svelte athleticism.  Shoulder padding decreased, waists narrowed, and pants tapered.  Formal evening dress included swallow tail coats with peaked lapels or shawl rolls; white, single-breasted waistcoats in linen, pique, or silk (black was also correct but less formal); trousers matching the coat with plain outseams or narrow silk cords; white shirt and cuffs; band, poke, or wing collars; white cravats in pique, linen, or cambric; and white gloves.
Fashion Trends for Winter/Spring 1912
For all those making Titanic era costumes who want to be completely up-to-the-minute, I've compiled a list of new trends mentioned in Vogue magazine from January to March 1912 — either general or specific to evening wear; plus, images of evening gowns featured in Vogue during the same period.
January 1912
rich brocades, antique laces, gorgeous embroideries — Byzantine splendor
fringe, scallops, plaitings, deep colors, multitude of buttons
classic style of hairdressing – relieved in simplicity by jeweled Grecian bands inset with rhinestones — also wide bands (about 3") of lace, beads, rhinestones, ribbon embroidery
chiffon petticoats
corsets:  broad waisted, very little hip coverage is latest mode — some prefer long hipped corsets
deep belted skirts are passé
underskirts of contrasting fabrics
pure white passé, yellow white is in
contrasting sleeves
recommendations for elderly women:

focus on line rather than color
bright colors are for youths
solid black ages
avoid black & white, black plus touches of soft color ok
white & pale colors: gray, taupe, brownish gray, greenish gray
opals or pearls set in silver or platinum, never gold
stout: do not push flesh up or down – use corset to contain, then drape gown over

transition from straight silhouette to draped & gathered
February
plastron girdle, slightly full overskirt
tricolors – one color with 2 shades of another
curves rather than square points (eg on skirts)
Indian influences (due to the Delhi Durbar) – eg black & green bead embroidery
loose circular trains
trimming:  narrow passementerie of rhinestones
heavy brocades, weighty embroideries
gradual departure from the slim silhouette
simplicity in trimming, graceful lines
references to French Revolution (high waistlines), 1850s (fuller skirts)
some women not wearing corsets
irregular outlines (asymmetry?)
ribbon belts in contrasting color
skirts of thin material, full at the waist, tapering toward ankle
kimono sleeve on the wane
trimming:  knitted cord w/ crystal beads
fichu effect on bodices
defined (ie natural) waist line, but still see empire waist
March
flounces
white, with or without a dash of color
asymmetrical trimmings – sharp angles
sashes:  long and short, fringed or tasseled – worn side front or side back
pleated and accordion-pleated skirts, held at the hem with a band of ribbon or hidden stitches
touches of brilliant embroidery
black & white
ruffles
drapery, often gathered into a jewelled galloon at hem or knees, or drawn back with blossoms
April:
Louis XV influences
"panniers":  knee or below length overskirts — hip focused, parted in front
white
chiffon
Grecian hair – center part, waved, bandeau
less bodice trimming and flat draping revealing the natural lines of the shoulders