I made this tutorial years ago, when I was first experimenting with creating high 1770s wigs.  Since posting, I've improved greatly in technique and done a large amount of historical research on 18th century hairstyles and wigs.  I published all of that knowledge and research in a book — 18th Century Hair & Wig Styling:  History & Step-by-Step Techniques.  
Because I know this tutorial has helped a lot of people, I will leave it up here, although with the caveat that my book features much better techniques and the designs have been updated based on tons of research!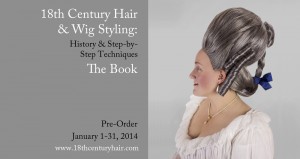 Supplies Needed
Long wig in a color that matches your own. Human or synthetic hair. Wavy or curly works best, but you can use straight. Try to find one with a center part. No bangs; if there are any layers, they should be long layers.
False hair. Extra false hair can be used to fill out the wig, make side and back curls, make the pinned-up ponytail that you see on some wigs, and make lovelocks (long, dangling curls). Try to get hair that is already sewn to a net (for example, you can buy the ponytails that are attached to a jawclip — take it off the jawclip and then you have a flat net attached to the hair).
Wire mesh, the smaller the holes, the better.
Wire cutters.
Pliers.
Thin wire to sew the mesh together; needs to be bendable.
Wig clips, also called toupee clips. Large size, to coordinate with your wig color.
Bobby pins. About a million.
Sewing thread in a color to match the wig.
Needle.
Hairnets in a color to match/coordinate with the wig.
Hairspray - aerosol, the strongest you can find.
Styrofoam head or other base on which to style and store the wig.
Teasing comb.