So I haven't been blogging lately (obviously) — partially because I've been too busy, and also partially because I'm feeling like the dress diary is over.  There are so many costume blogs these days that I think it's hard to keep up with them all, and I don't get much feedback on my own dress diary posts, so I've been thinking of doing more wrap-up posts — here's what I made and here's how I made it.
But since I AM sew-sew-sewing for France, I wanted to show you where things are!
First off, the camisole à la polonaise is almost done.  I had a bit of quandry when it looked like I didn't have enough of the contrast windowpane fabric to do skirt ruffles, but I managed to find a piece I'd forgotten about and have eked out enough.  Just need to gather and attach the hem ruffle, and I want to make a couple of sets of different color bows (I'm thinking green and lavender) to wear at the neckline and sleeves.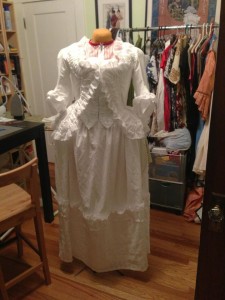 I'm working on a gazillion things simultaneously, which is kind of nice in that when I get sick of one thing I can put it down and pick something else up.  Here's the robe à la turque, which turned into a robe à la circassienne once I realized how impractical a white silk satin gown was with a train.  This was a particular adventure because I decided to drape it on my dress form using the fashion fabric.  A great idea, except when you're dealing with $40/yd fabric.  Yeah.  There were some screw-ups and fabric wastage.  I'll give you the long version when I write my "how I made it" post!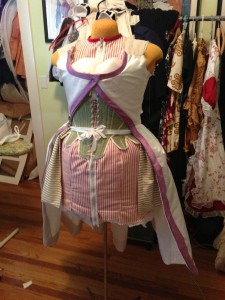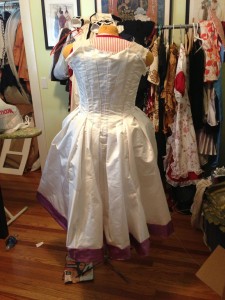 Finally, there's the redingote, of which I don't have an up to date photo.
I still have LOTS of fiddly bits to do — sleeves to set, 10 million buttons to make, plus I am embroidering away on Francis's waistcoat… And I want to style a new wig, and make at least one hat.  I'll try to post more pics in a day or two!  Luckily I'm off work as of tomorrow, so I have 1.5 weeks to finish sewing, pack, and get generally organized.  EEK!
There's also some important news to post about my research, but I'll save that for another post….