So I have been to the UK many times — I studied abroad in Scotland in college, and I've probably spent a combined 3 months in London.  Which means that while I've done most of the London museums multiple times, I haven't spent much time in England beyond London… which means that there are many interesting costume museums I've never visited!  Which is all to say that a large point of this trip was to hit some out of the way museums.
I did go to the V&A to meet up with Kate, Christina, and Leia.  Leia had never been, so we did go through the costume wing, but we spent more time in the new Medieval & Renaissance galleries and in the Textile Study Room.  There was lots that was interesting, but highlights for me included seeing this Florentine bust in person — it is great to see a 3D view of mid- to late-16th c. Italian fit. There's a nice curve to the bustline, and the neckline comes up past the bust point… and check out the waistline wrinkles, consistent with a bodice that's stiffened with heavy fabric but not boning!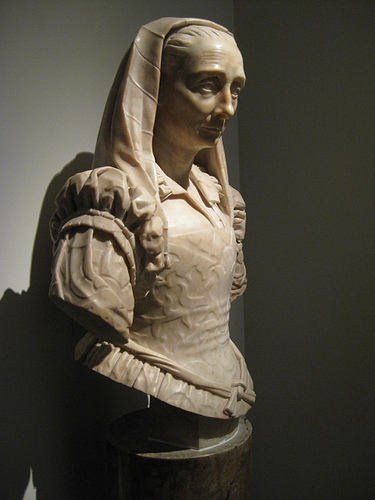 In the Textile Study Rooms, I bypassed the embroidery to look at the printed cottons, but luckily Kate mentioned this pair of mid-18th century jumps. One whole front was there — I think it had never been sewn together? And the teeny tiny embroidery stitches were absolutely to die for — maybe like 20 stitches to the inch?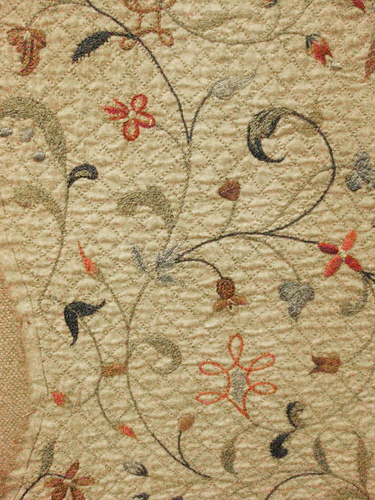 Blaise Castle House Museum had a couple of nice rooms full of period costume (altho heads up, they had some signs up that they're working on a [late?] 20th century exhibition – sigh). Probably the best moment was looking at this Charles Worth gown, when some very small (ages 5-6?) children ran in. Boy #1: "Is this what they wore in the Victorian era?" Boy #2: "Yes." Boy #1: "NASTY."  My husband and I ran around saying "nah-sty" for the rest of our trip.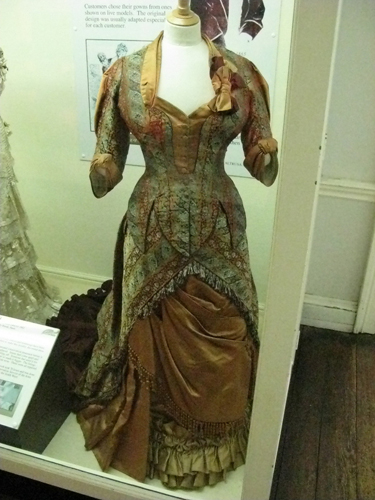 I happened to check out the Royal Albert Memorial Museum website, and saw they were doing an exhibit at the Lawrence House Museum in Launceston… otherwise I wouldn't have known to stop in! This gown, from their regular display, is signed as being from the 1880s, but I say it looks about 1908ish.
The special exhibit, "Curious Curves," would have been very cool if I wanted to try on reproduction period undies (bustles, panniers, etc.), but turned out to only have one extant dress on display — this late Victorian beaded number.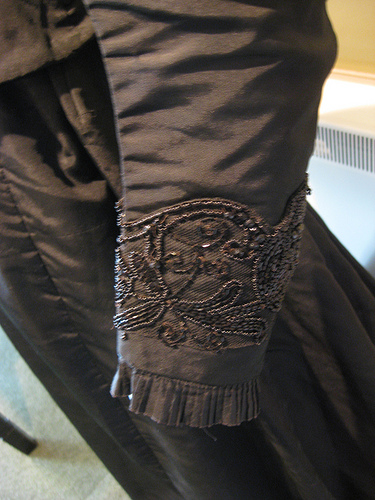 Killerton had a lovely exhibit called, "Elegance," which included a number of really fabulous items.  These pair of leather 18th c. stays had me peering up close for a while…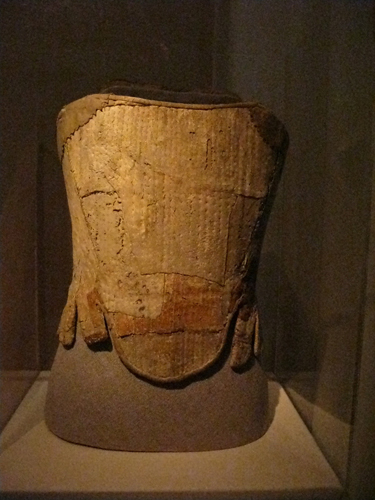 …and this 1770s sacque, with teeny tiny ikat pattern, was just gorgeous in person.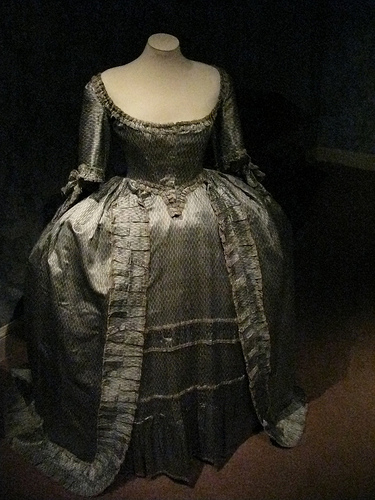 I was super fortunate to have a study appointment with the curator of Killerton and the Royal Albert Memorial Museum. I was looking at late 18th century gowns, and was super excited to find one in the particular style I'm researching, plus to look at a lot of other pretties.  Unfortunately I can't post pictures of any of them due to copyright.
I did find out that they recently photographed all of their collection, which will eventually (in a few years?) make its way onto the National Trust website.  I don't know if this means that other National Trust collections are also being photographed?
Many small museums that I didn't think of as "costume museums" had period costumes on display. The Sidmouth town museum had this lovely fan front taffeta 1850s dress.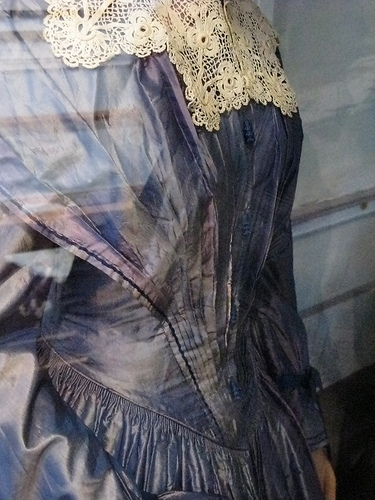 Chawton, Jane Austen's home, was really really cool.  REALLY! The jacket is from Mrs. Austen's riding habit, which was recut by younger family members for fancy dress.  And the quilt on the bed was made by Jane and Cassandra (and Mrs. Austen?) out of dress scraps.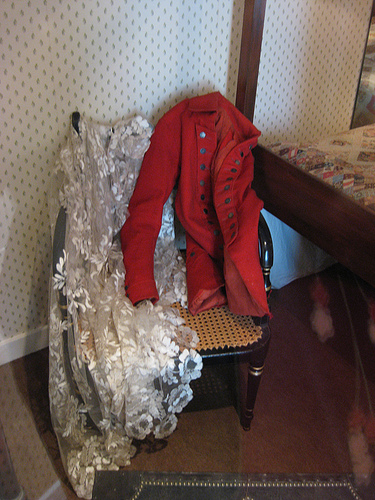 Finally, the Winchester City Museum had a display of Tudor costumes recreated by Herbert Norris (author of Tudor Costume and Fashion) in 1908 for a town festival. I thought some of you 16th century costumers might like to see what he came up with!
All in all, it was a lovely trip, and I'm glad I got to cross so many small but interesting museums off my list.  If you're interested, you can see the full set of travel photos (including many from museums, but also just my general travel photos too) on Flickr.