Currently showing at the Chateau de Versailles (until Oct. 9) is the exhibition:  The 18th Century Back in Fashion (Le XVIIIe au Goût du Jour).  The exhibition features 18th century costume, as well as 20th-21st century couture inspired by the period.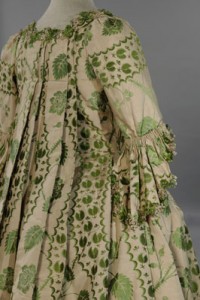 It's worth checking out the exhibition leaflet (pdf), plus there are videos and some decently-sized photographs (see the "slide shows" on the bottom left of the main page) of the exhibition.
There is a catalogue (yay!).  I've poked around and it looks like the cheapest option is to buy direct from the RMN.