I still have at least two more posts to write about France, so I really should get busy!  And speaking of wigs, I wanted to post about the wig I made for France.
Luckily, somehow, all of the projects to which I was drawn were right around 1780, so that made it easy — one wig to rule them all!  I did contemplate making a grey wig for a more historically accurate look, but realized that a big trip like this wasn't the time to take a risk — if I was going to have only one wig, I wanted to know the color would work on me.
Here's my inspiration board, which I had up while I was making the wig: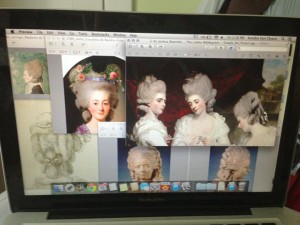 My first try needed rework, which seems to always happen (yes, that advice is going in the book!), as it was TWICE as high as the final version.  I almost went with it, then reminded myself that that wasn't the era I was going for.  Here's how the wig turned out: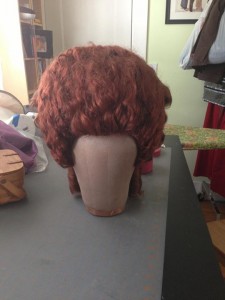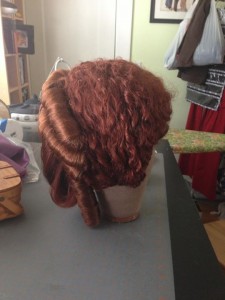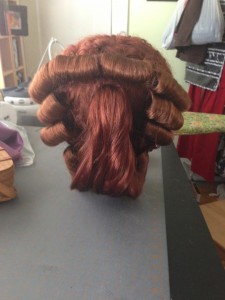 I have a vintage 1960s hatbox that I use for my wigs when I travel.  The wig block never fits, so I stuff the head portion of the wig with plastic bags or newspaper or whatever is on hand, and if the wig isn't as tall as the box, I do the same with any empty space.  This wig was wide enough that I had to take off the rolls to pack it, but part of my plan was that I could move the rolls around for different looks, so that was fine.  The other thing I planned was different ways to style the chignon (the back hair) and various hair accessories, to mix things up… didn't want to get bored of wearing the same wig over and over!
Here's the many ways I wore it:
First day with redingote, no hair accessories finished so nada, cadogan in back:
Evening look, with fake flowers pilfered from my room at the château (and returned), chignon looped up:
With purple ribbon and feather:
With ridiculous hat — I love the "floating hat" you get in this era!
With an organdy pouf, feather spray, and brooch for redingote rewears:
The rolls were looking a little shabby by the end of the trip (note to self, fix those up before CoCo!) but otherwise the thing made it through the whole trip!