Have you seen the trailers for three exciting costume movies that are coming soon?
The Invisible Woman trailer — Charles Dickens's (Ralph Fiennes) relationship with his mistress (Felicity Jones).  Altho I find mid-Victorian a total snooze, the costumes look very accurate.  Costumes designed by Michael O'Connor.  Coming to the UK in February 2014, US will probably be sometime after that.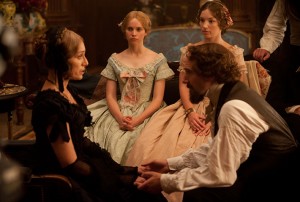 Maleficent teaser trailer (only a teaser, but it looks great!) — the story of Sleeping Beauty told from the evil fairy's perspective, starring Angelina Jolie. Costumes by Anna B. Sheppard.  Will be released in May 2014.
Belle trailer — the one I'm most excited about!  Based on a true story, about a mixed race girl who grows up with an aristocratic English family in the 18th c.  Costumes by Anushia Nieradzik.  Also coming in May 2014.
Wondering what other costume movies are in production/coming soon?  Check out my Upcoming Movies page.