démodé
adjective:old fashioned, out of style, unfashionable [from French, the past participle of démoder "to go out of fashion," from mode "fashion"].
the concept
the fabric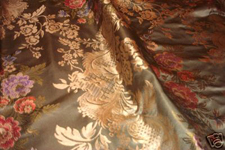 turquoise silk lampas (unfortunately much more turquoise in real life)
the pattern
the deadline
the result
what's on the dvd player?
useful links
inspirational images
bibliography
Costume close-up : clothing construction and pattern 1750-1790

Modes en miroir : La France et la Hollande au temps des Lumières
Wednesday, May 24, 2006
So there's this THING a certain miss Sewphisticate started on LiveJournal called WWKD. It stands for "What Would Kendra/Koshka Do" and she's been using it to motivate herself to stay on deadline with her sewing. And it's spreading. And it only points out what a TOTAL LAGGER I have become lately. Because the last thing I have been doing is living up to the philosophical premise of WWKD.

Remember this sucker? Well, I finally finished with a bunch of work heinousness and wasn't quite feeling energetic about sewing, but thought maybe I could do some hand sewing. Perfect! I'll just pull this guy out and work on him at home. La la la insert lovely couch handsewing. I hemmed the skirting and finished the edges of the jacket (boning the CF). And then put it on my mannequin. Can you see what's wrong with this picture?
| | |
| --- | --- |
| | |
Okay, um, right. It doesn't fit! Well, maybe it's because the dress I modeled the bodice pattern on is meant to lace shut? Okay, then let's put in the sleeves and see how bad it is.

Warning: graphic photo ahead!


Pardon my rude gesture, that's what I thought about this situation.

Well. Harumph. I had to futz with the length of the shoulder strap, making it a bit longer than I'd planned, when I put in the sleeve. Is that what is making this whole thing look so GODAWFUL?
Pinning the shoulder strap tighter - survey says yes!

Okay, plan of action:

1. Put this in the closet to molder for a while.
2. Whine
3. Redo the sleeve to tighten that whole mess up
4. Grumble
5. Redo the CF to straighten the edge and get rid of that weird pointy-uppy thing at the CF top
6. Whine
7. Make a stomacher with lacing?

Stay tuned for more tomorrow on my caraco...
posted by démodé 3:15 PM
Monday, March 27, 2006
Remember this guy (girl?)? S/he got lost when I started embroidering my Edwardian corset cover; now the Edwardian Fever has passed (don't worry, it will come back) and I've got the Rococo Flu.

"Aha!" I thought. "Rather than start a new 18th century project, I can just pick this one up again!"

So I dragged this puppy out and started pinning bits together so that I can start sewing on it again. In my brilliance, I forgot to draft a full repeat into the pleats in the jacket skirting, so I pinned the skirting on to see what it would look like without them (it's a similar effect to the jacket in the "concept" image, from Costume Close-Up). Not sure which will be better, I'll sew them together and then decide if I want to iron in pleats.
Then I unpicked the arm strap, as that will go on last to cover the sleeve head -- then spent about two hours at the ironing board, ironing in the skirting hem and the turn-in at the jacket center front and neckline. I was all set to get organized for train sewing tomorrow, only to discover I've lost my coordinating thread! Argh! And I have two spools of it, WHERE could it go?
posted by démodé 10:11 PM
Thursday, November 17, 2005
Progress! The main bodice seams are together, including the lining:
I keep finding the need to press and pin at home to be slowing me down, as I've been pretty wiped the past couple of weeks (okay, MONTHS) and I'm trying to work on my 1875 evening bodice. I was all set to start sewing the skirting together today on the train, was all pressed and pinned and had my bag o' sewing fun, only to find I've lost my needle! *Shakes fist at the sky*
posted by démodé 5:49 PM
Monday, October 31, 2005
Nothing terribly exciting to report -- it's still in pieces and I'm working very slowly -- but I did manage to finally upload a picture of my sleeve mockup:
posted by démodé 2:27 PM
Thursday, October 27, 2005
Public sewing report: so far, so good. I've realized that I have to do the prep work of measuring, ironing and pinning at home, which is fine -- that's about all I have the energy for these days.

I'm using the technique outlined in Costume Close-Up for sewing the pieces together, which Katherine has explained well at the bottom of her page about her Costume Close-Up Jacket. The only thing that's hanging me up is that I'm going to turn the edges in on each other and sew them shut to finish the neckline/hemline, and that doesn't quite match up with the sew-three-layers-together method. So I'm currently only sewing the outer layers together for the top and bottom 1" of each seam, so that the lining will be loose there. I suppose the other option would be to make a bias facing or pipe the edges, but I don't want to. So there.

In terms of sewing on the train, it's all gone relatively well except that I've realized that when I have a long thread, I tend to make very wide gestures with my right hand to pull the thread through. So I've been trying to rein in that impulse in the interests of not putting anyone's eyes out. I did have one lady who was riveted -- she watched me sew for about 20 min. She never asked tho, so I didn't volunteer. I was working on a sleeve, too, so I'm sure it looked really weird to her -- "what the hell is this person doing?"

No pictures yet. Soon!
posted by démodé 12:31 PM
Monday, October 17, 2005
So I've moved farther away from work, which is not necessarily a bad thing as I now have better public transit than when I lived closer. (Weird, huh?) Anyway, I now have about a 45 min. stretch during which I'm usually sitting. I've been doing a lot of reading, which has been lovely, but of course my costume-obsessed brain keeps thinking, "THIS IS VALUABLE SEWING TIME! If I just had a handwork project..."

Enter 1+ yard of silk lampas fabric from ebay, which is really as dead ringer-y as I'm ever going to get to an 18th c. brocade (compare it to this caraco from Modes en Miroir), and the fact that I really loved the unnecessary hand sewing that I did on my 1780s robe a l'anglaise...

I wasn't really sure at all on a design, so don't take that image of the Costume Close-Up jacket in the "concept" spot too literally. I knew I wanted a relatively basic style to show off the fancy fabric, 3/4 sleeves to save on fabric, and some kind of skirting, with possibly some box pleating or a more ruffly look like the Costume Close-Up jacket.

So here's what I came up with while draping -- the main bodice portion is based on my pattern for my robe a l'anglaise:
And then the mockup:
Side note: I just giggle every time I see my huge 1780s rump-butt. Thank you.

Now I just have to do the cutting out, and I'll probably have to do some piecing to get it all to fit (which is ever-so-period).

So, the plan is that once I get this sucker cut out, I won't do any of it at home -- and in fact will probably start on another project. This is going to be my Public Transit Only jacket -- only hand sewn -- and will be done when it gets done.
posted by démodé 11:25 PM