démodé
adjective:old fashioned, out of style, unfashionable [from French, the past participle of démoder "to go out of fashion," from mode "fashion"].
---
the concept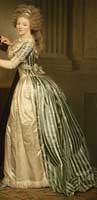 Self-portrait With a Harp by Rose Adelaide Ducreux at the Met
---
the fabric
overdress: changeable green striped taffeta
underdress: ivory silk poplin
---
the pattern
Custom draped from Hunnisett, Jean. Period Costume for Stage and Screen: Patterns for Women's Dress, 1500-1800. London : Bell & Hyman, 1986.
---
the result
---
what's on the dvd player?
---
useful links
Paintings:
Extant garments:
Reference:
---
bibliography
Arnold, Janet. Patterns of Fashion: English Women's Dresses and Their Construction, c.1660-1860. New York: Drama Books, 1984.
Baumgarten, Linda. Costume Close-Up: Clothing Construction and Pattern, 1750-1790. Williamsburg, Va.: Colonial Williamsburg Foundation and Quite Specific Media Group, 1999.
Bradfield, Nancy. Costume in Detail, 1730-1930.
Fashion: A History from the 18th to the 20th Century. Taschen, 2002.
Hunnisett, Jean. Period Costume for Stage and Screen: Patterns for Women's Dress, 1500-1800.
London Museum. Women's Costume, 1750-1800. London, H.M. Stationery Office: 1972.
Tuesday, June 08, 2004
So since I've had a few questions about it, here's how I did my hair. My real hair is just above shoulder length, FYI, although you could definitely do this style with longer or shorter hair.

1. Section your hair, apply liberal amounts of gel, and curl it. I'm a huge fan of hot rollers (only takes about 30-45 min. for me to do my whole head), but you can also start with damp hair and put it into dry rollers and sleep on it (takes all night, very uncomfortable sleep).

2. Take out the curls (if you're using hot rollers, wait until the rollers have completely cooled) and hairspray each curl (I used a normal hairspray, but if I did this again I have one word for you: AquaNet! I'm quite serious!).

3. Wait for the hairspray to dry, then pull apart each curl (run your fingers through them to break the curl into smaller curls). Hairspray again.

4. Bend over so your head is upside down. Grab a comb and start ratting your hair. Apply hairspray. Rat some more. Repeat repeat repeat until you get a big round beachball effect. Start by ratting the bottom and sides so that the top has something to support it. Spend extra time on top making sure you get enough hair on TOP of your head.

5. Grab a mirror and look for "holes." Fill them in with more ratting.

6. Hairspray, hairspray, hairspray.

7. If your hair is shoulder length or above, get some fake hair (the piece I normally use is about 1.5-2 feet long, stitched to a piece of netting at the top [it has a snap so that you could snap it around a ponytail]. Perfect for laying flat or for restyling. You could also use one that's made with a ponytail loop.). Curl this into 3-5 separate curls (my fake hair curls fine with some gel and hot rollers, although I've heard some people have a hard time curling fake hair. One thing you can do to get permanent curls in fake hair is to curl it around a curler and literally just DIP it (one second!) into boiling hot water. This melts the fake hair into the curls. You can trim off any dodgy ends).

7a. Once your fake hair piece is curled, grab some hair pins, lift up part of your ratted/curled real hair in back and pin the fake hair underneath.

** If you're doing this with long hair, then as you rat your hair, pull it loosely back into a ponytail or bun at the back of your head. Either use your real hair to make the long ringlets, or use fake hair as in 7a.

8. Hairspray, hairspray, hairspray.
posted by démodé 9:14 AM
Sunday, June 06, 2004
Final photos! Pretty much everything worked out well, except the fichu I made did NOT want to stay tucked in so I ditched it about 5 min. into the event. I'll have to experiment to find something that works!

There are more photos on the Travellers in Tuscany photo gallery page.
posted by démodé 7:03 PM
Friday, June 04, 2004
Exhaustion sets in!

I went to crappy Joann's yesterday after work to get ribbon to lace up the bodice and shoes (I bought Fugawee's "Anna" shoe a while back), then got home and put a drawstring into the neckline while dealing with the landlord (who was fixing our sink). I ended up creating a separate casing which I sewed to the inside edge of the bodice neckline from where the shoulder strap starts to the CF -- here's hoping that will deal with the neckline gappage, although I didn't have time for a try on!

I then started on the fichu, but only got as far as ironing the organza and draping it a few ways on myself and my dress form to realize that for such a surprisingly simple item, I'm not entirely sure how to make it work! I don't want it to bunch up too much around the neck, and I'm not sure how to make it the right shape to go around the front and tie in back (obviously long and narrow, yes, but it'll take some experimentation). Being a whiny tired costumer, I decided to give up on the fichu for now -- the tie around will only obscure the Very Smart(TM) bodice front, so I'm fine with getting to it it later. In the meantime, I think I'll cut a square of organza and just tuck it into the neckline for Saturday's event.
posted by démodé 10:48 AM
Tuesday, June 01, 2004
Did the full try on last night, and we're mostly ready although the neckline is gaping a bit so I need to put in a drawstring. I'm not sure what I'm going to do -- I think I'll open up the neck edge and sew a casing to the lining. The bodice lacing is upside down (I want the Vs to point down, not up) and I need to get a green ribbon to match. But I'm so impressed that I'm pretty much ready -- for once, I WON'T be up sewing until 3am the night before the event!
posted by démodé 10:12 PM
Friday, May 28, 2004
I've been racing along without documenting my progress -- the dress is done (except for lacing holes, and anything discovered in the final fitting).

Fuzting with the skirt was slightly annoying, as I needed to slit the top fold over at the CB point, but I didn't want to slit it until I was sure on the length. Once I got the pleats figured out, everything else went smoothly.

I hemmed and hawed about the sleeve, first deciding to drop the sheer overlay and ruffle and then deciding just to go with it. I ended up using off-white silk organza which I laid on as part of the sleeve (rather than folding it up or anything complex), which I sewed down to the sleeve piece before I put that together. I wish I'd cut the ruffled bit a little bit longer, but it is what is is and I'm not redoing it!

I ended up setting in the sleeve in the modern method -- I guess I'm still unclear on the period method. I know that on top you would pin in the pleats on top of the lining, then use the shoulder strap piece to cover the seam allowance, but what happens with the underarm part of the sleeve? Is that sewn in the normal way, and if so, then you've got your seam allowance trying to go different ways on top and on bottom...?

Terrible photos, but I'm too lazy to put it all on. I am wondering if the neckline will gap a bit, in which case I'll put in a drawstring. All that's left is the eyelets, which I can do evenings next week...
posted by démodé 5:12 PM
Tuesday, May 25, 2004
Contrary to what you might think, I have actually been working on this project -- although it's been fits and starts because of work busy-ness.

Sometime last week I cut out the bodice layers (fashion fabric, underlining - always silk organza, and lining - always cotton muslin). Then, because I've seen what a difference it makes (ESPECIALLY when trying to be precise with stripes), I hand basted the taffeta and the silk organza layers together. On the center front piece, I also hand stitched down (with a back stitch) the taffeta overlay to the silk poplin underbodice.

The construction on the bodice will be a conglomeration of modern and period sewing techniques. I machine sewed together the taffeta/organza pieces separately from the cotton lining as though I was going to do a bag lining -- and machine sewed the CF taffeta/organza to the lining and turned it inside out -- but instead of continuing with a bag lining, I hand sewed the taffeta/organza pieces down to the cotton lining along the seam lines (both to keep everything in place, and also to make it look like it was constructed in the 18th c. method). Why? Because I'm turning into a perfectionist, and also because I have the whole week off from work and thus have the luxury of being able to take as much time as I want with this!

Next up will be the skirt, which I need to put together and then pleat into the bodice -- before I turn in the bodice top and bottom edges and hand stitch those together. Then it'll be the sleeve -- I'm planning to do the period method of sewing that down to the lining, then covering the sleeve top seam allowance with the shoulder strap piece.

I went to Lacis yesterday to get the remaining supplies I need for my hat, and was excited to find that GreenCine (the NetFlix equivalent we use) had serendipitously shipping Jefferson in Paris, so got to DROOL over the AMAZING NUMBER OF FABULOUS HATS last night as I sewed. That movie has just got to be my absolute pinnacle (costume wise) for this period. If you haven't seen it, do it -- it just came out on DVD!
posted by démodé 1:51 PM
Sunday, May 09, 2004
It's going to work it's going to work (in the exciting fabric, that is)! (Doing the happy dance)

Tonight I put together the mockup from the draped bodice -- only had to make a few small changes (taking in a bit at the waist curve on the CF and CB seams, and adjusting the neckline and straps). Managed to coerce my husband into putting in a few pins and marking a few new seamlines for me. I may end up adding a small drawstring to the neckline to keep it from gapping, but I'll worry about that when I get there. I was really excited when I held up the piece where I marked where the zone would go (the cut away part on the bodice front) -- it just looked RIGHT (don't you love it when that happens)?
Then I worked on the sleeve. I basically drafted up a rough version of the sleeve from the 1780s fall-front gown in Janet Arnold and was impressed to find it really fit quite well -- I like the 18th c. thing of sewing in the sleeve under the arm and in front, and then pleating the excess along the top and back of the sleeve head.

Once I'd finished the sleeve pattern, I hauled out the Exciting Fabric(TM) and measured out how much I'd need for the skirt and laid out the bodice and sleeve pieces -- and was ecstatic to find that it'll fit with enough room left over to make sure the stripes line up well on the bodice! YAY! Of course, now I'm itching to get STARTED but it's late and I should sleep (that pesky work thing tomorrow. How rude!).

Outstanding issues I'm thinking about -- how to close the bodice and what's going on with the sleeve in the original painting. I like the look of the solid center front pieces like in this Fragonard painting, but I'm not sure how to actually make that happen. I also like the look of the laced front bodices (although the lacing will sort of spoil the smoothness of the bodice front, the vertical detail will be slimming) like in this 1780-85 gown at the Museum of London.

Re: the sleeves, I'm having a hard time figuring out what's going on in the painting. It almost looks like a fitted sheer sleeve with a ruffle at the bottom that's been pushed up over the striped sleeve, with the ruffle falling down... or it could be a cuff. Either way, the fitted part seems really LONG... I'm not too sure what I'm going to go with there. Thoughts?
posted by démodé 1:14 AM
Saturday, May 08, 2004
I finished the petticoat (that is, the petticoat-that-shows) and draped the bodice, although I still need to make a mockup to see how my drape will fit.

The petticoat is just rectangles of fabric pleated into the waistband. I had to redo the waist pleats because I had originally pleated them to a grosgrain ribbon, which I removed and then sewed down the pleats (since I'm doing the period trick of turning over the top of the skirt to level the hem). Somehow (gee I wonder why) the waist circumference ended up about 3" too big, so I stopped being lazy and cut out a waistband, then pleated the skirt to that. I'm totally impressed with myself that I actually took 15 min. to sew hooks and eyes into the waistbands of the petticoat-that-shows and the under-petticoat -- usually I leave all the fastenings to the last minute and then get really irritated with sewing in 3,000 hooks and eyes (or whatever).

So finally tonight I got to draping the bodice, which was really fun. I really like draping in a very visceral way -- I think it's that I'm not great with geometry and arithmetic, so taking my mental image and just making it happen out of fabric really WORKS for me. Since the image I'm working from is a side view and doesn't show too much detail on the seams (except I can just make out a side seam near the waist because of the stripes V-ing away from each other), I looked at the late 1770s and 1780s dresses in Janet Arnold, mostly using the front shape of the 1780s fall-front gown (the one with the huge collar) and the side and back shapes of the 1770s polonaise that EVERYONE makes. I'm not 100% on the armholes and front neckline -- I need to wait and see where they hit when they're on. Then I patterned the draped pieces, truing seamlines and adding seam allowance.

Got as far as cutting out a mockup, although I still need to mark all the seamlines and put it together to check my work. Once I get the bodice pattern finalized, I'll need to mockup the sleeve and then it'll be the moment of truth -- can I use my exciting fabric or will I be stuck with my not-so-exciting fabric?
posted by démodé 12:10 AM
Friday, April 30, 2004
No rest for the wicked -- I finished the bumpad and worked on the petticoat last night.

I went with my idea of covering the bumpad with prefab quilting, as I'm more concerned with getting the shape right than making it 100% period accurate (which would be a cork-stuffed bumroll -- no thanks!). I had to experiment a bit with the pleating on the quilting -- pleating it over the bumpad made it too bumpy. I sewed the bumpad and quilting together to some grosgrain ribbon.
Then back to the petticoat. I'd already put the petticoat together and put in a hem, but was waiting to level it until I had finished the bumpad. I did my handy trick of marking a yardstick with colored tape where I want the hem to end, quartered the skirt, and pinned it to another ribbon (which will be the waistband) in order to figure out the hem length (hold the yardstick down so it touches the floor, then make sure the hem is even with the colored tape marker). I then put everything, including my stays, onto my dress form and pleated the petticoat, which I still need to sew down.

The pictures look a bit weird because the plastic thingie that keeps my dress form up on the stand broke, so I had to put the form on the coffee table and hang the skirt off the edge.
I'm really hoping that my dress form will work with my 18th century corset, as I REALLY want to drape this (rather than draft it). We'll see!
posted by démodé 9:39 AM
Thursday, April 29, 2004
So what do you think -- is there any chance of squeaking out the robe part of this dress from 3.7 yards of 60" wide fabric?

Obviously I love the dress in this painting because it's stripey and it's green. I found the fabric that I was originally going to use on my favorite online fabric store, Fashion Fabrics Club. While I like it (it is a bit greener in the darker stripe than in the picture), I don't love it as much as THIS fabric that I recently found on ebay, which is so perfect for an 18th century stripe that I can't believe it. It's a slightly iridescent green silk taffeta with stripes in darker green, ivory, yellow, and red. The best part is that it's a dead ringer for one of the fabulous $34/yard stripes on Designer Fabrics Online, but I got all my yardage for $41 plus shipping.
So according to my calculations, I would need 90" wide x 50" long for the overskirt, which means I would basically have 1 yard x 60" plus 50" (long) x 30" (wide) left over after doing the skirt. Luckily the bodice front won't take too much fabric as it's angled from the top of the CF down to the side seam, and the sleeves are only elbow-length.

Normally I would just go ahead and buy one $34 yard from Designer Fabrics, but I'm so poor right now that I just really can't justify the expense. Probably what I'll do is drape the pattern and then see if there's any chance of squeezing, but I want to know NOW!
posted by démodé 9:42 AM
Friday, February 27, 2004
The projects that I need to get cracking on, my 1910s corset and then 1909 afternoon dress, are unfortunately held up as I wait for all my corset supplies to arrive in the mail (can't make the corset without them, can't start on the dress until I know what shape I'm going to be) -- which is frustrating because I know I only have 2 months to get them done. My spring cleaning of all my sewing stuff has made me ready to GO GO GO, but luckily this works in my favor as it's really easy to work on another project while I wait for the mail.

This project, a STRIPED (oooo) 1780s robe à l'anglaise, is next on the list -- I've been lusting over this period (and this dress) for more than a few years now, and the GBACG Travellers in Tuscany event is just the motivation I need. (No, of COURSE I can't wear the robe à la française that I've just finished -- that would be taking all the challenge out of it!).

Luckily I already have stays that will work for this period, but now I need to complete the proper undies.

It seems that the proper skirt underpinnings for the 1780s are open to debate -- what seems most likely is a bumroll: Nancy Bradfield has some line drawings of them in Costume in Detail, Jean Hunnisett has a pattern in Period Costume for Stage & Screen (1500-1800). The only problem with bumrolls is that they are made for women who DON'T have hips like mine -- I think the difference between my waist and hips is something like 14". I don't need no bumroll -- on my hips, that is -- but I do need some padding and shape on my rear (what my husband calls my "flatbutt(TM)" -- yes, I come from a long line of childbearing hipped, no butted women).

Someone on the h-costume listserv (AlbertCat, whose real name I don't know but always has helpful suggestions and who must be named after MY cat Albert [naturally]) suggested making a pad that just covers my bum and then covering it with a "skirting" of prefab quilting, so that the quilting comes further forward on the hips and longer down over the pad in order to "soften" the line. I think that's a great suggestion, so I've made my pad and now need to get out to the fabric store for some quilting. [Non-historical note: I noticed in Affair of the Necklace that they had Jeanne wearing a short cage hoop rather than a bumroll, and I liked the silhouette that that longer line created -- I'm hoping to get a similar, if not quite as BIG, effect with this pad/quilting combo.]

Over this I'll be wearing at least one (we'll see if we need more) underpetticoat in white muslin. I put that together, except for the waistline, last night -- I need to finish the quilted skirting on the pad before I level the petticoat (not sure how long the petticoat will need to be in back).

One thing I'm wondering about on the underpetticoat and official petticoat, is to what degree should they be fuller in back than in front, and should the center front few inches be flat or gathered/pleated similar to the rest of the front? I may have to experiment, but let me know if you have any thoughts.
posted by démodé 12:22 PM