démodé
adjective:old fashioned, out of style, unfashionable [from French, the past participle of démoder "to go out of fashion," from mode "fashion"].
---
the concept
---
the fabric
---
the pattern
Drafted by Mela Hoyt-Heydon, from Costume College's "Sense & Sensibility Hat" workshop
---
the result
---
what's on the dvd player?
---
images
The Mall in St. James Park, Gainsborough, 1783
The Palais Royal Garden Walk (detail), L. Le Coeur after C.-L. Desrais, 1787
Mrs. Dashwood, Sense and Sensibility
Woman, Jefferson in Paris
Woman (back view), Jefferson in Paris
Marie Antoinette and court ladies, Affair of the Necklace
---
bibliography
Aileen Ribeiro, The Art of Dress: Fashion in England and France, 1750-1820 (Yale Univ., 1995)
Stella Blum, Eighteenth-Century French Fashion Plates in Full Color; 64 Engravings from the "Galerie des Modes," 1778-1787 (Dover, 1982)
Saturday, June 05, 2004
Not sure which diary this goes into, but who cares! Look! I have 1780s Big Mall Hair(TM)!

Hee!
posted by démodé 10:12 AM
Friday, June 04, 2004
I know we all know it, but let's say it again -- Joann's sucks!

Went down to my local branch to get ribbon for my anglaise and to look for ribbon for the hat. Nothing was the right shade and it was all crappy polyester nastiness -- I just can't go to all this work, using silks and hand sewing and being generally picky, and then plop a big wrong-color synthetic bow on my hat. I just Can't Do It. So the hat will go sans-decor (unless I get inspired to retry the green velvet leaves that didn't work so well before) and that'll just have to do!
posted by démodé 10:55 AM
Wednesday, June 02, 2004
Do you ever have that experience where you really want to get a particular look right, but you're not entirely sure it will all work out well, so you trudge along and then you have that moment where you put something on and have the "YES!" moment? Well, I just had one.

Finishing up the hat went smoothly: I ripped off the stabilizer, which basically required a few hours on the couch and careful tearing of the stabilizer with my seam ripper (I found it easiest to cut between the stitching rows, then use the seam ripper to tear small sections which I could then pull off with my fingers). Then I resoaked some more straw and sewed two stabilizing rows on top of the outside row (one underneath, one on on top) -- I wasn't sure that this would be necessary, but I do really think it helped stabilize the brim shape. Then finally I sewed a row standing up to the inside of the crown to create the headsize band.

Then I hemmed and hawed over what fabric to use for the crown. It had to be something from my stash (poverty!), which mean it could be: one of the fabrics left over my dress (too boring and matchy), dyeing fabric yellow or red to match the small stripes in the robe fabric (too much work), a red and white striped taffeta, or the green and cream striped shantung that I originally was going to use for the robe. I was leaning towards the red and white (going for the loud effect), until I realized that the red shade was off and the white didn't go well with the cream. The green and cream looked great (although not as loud as the red/white) so that settled that!

I experimented a bit with the size of the crown, as I really wanted it to balance out the brim. I started with the original crown pattern and ended up adding 2". Then I cut out the crown shape out of silk organza, thinking I'd use that as an underlining/stiffening layer -- but when I put it on to test the size of the crown, it already started to cave in on top, so that was right out! Luckily I had some nylon net in my stash so I ended up using that instead, which worked out well. Then I cut out the striped fabric, cut out a bias strip the size that I wanted to pleat the crown down into, and pleated the crown to the bias strip (which I turned under to create a band). The crown sits right on the head size band (straw) in back but comes forward on the brim in front, and by sewing the fabric crown with the band pointing up, I managed to get enough lift in front to (here was the moment!) really create that big oversized 1780s mushroom effect.

Yay!

Not too sure about trim... I had originally purchased some green velvet leaves for this, but when I put them on they didn't quite work. I may leave it as is, or maybe make a bow out of the striped fabric? Not sure.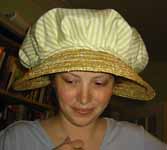 posted by démodé 11:35 PM
Saturday, May 29, 2004
This hat has been about two years in the making! I took Mela Hoyt-Heydon's (a fabulous costumer who teaches at Fullerton College) "Sense and Sensibility Hat" class at Costume College in 2002. Mela designed and made most of the hats for the film Sense and Sensibility, and she not only taught us how to make straw braid capotes (the term for hats with the straw brim and fabric crown), but also gave us copies of her brim patterns.

In the class I started making one of Elinor's hats, thinking I'd be making this hat to go with Regency outfits. However, we ran out of time in class to finish the hats, and I really wanted to start over from scratch as the method we did in class involved machine zig-zagging the straw braid together, and (you know me!) I wanted to hand sew mine. Then the fact that I didn't have any Regency day events intervened, and I just didn't get to it.

When I started thinking about my robe a l'anglaise project, I remembered Mela mentioning in class that Mrs. Dashwood's hats were made to look old fashioned (given that she's an older character, it makes sense that her costumes would retain some of the aesthetics of those she wore when she was younger). The film was set in the 1790s, so obviously Mrs. Dashwood's hats would be 1780s.... this mental leap made me hit my bookshelf, and I quickly realized that not only were there MANY fabulously silly hats worn in the 1780s, but this style (made a bit larger) would be perfect for this outfit! I'm drawing equally on period images and movie images (hello Jefferson in Paris for FABULOUS hats!) as my inspiration here -- see the images sidebar (on the left) for some of the images that are inspiring this hat.

The problem was getting the straw braid. Little did you know, getting your hands on straw braid is really really hard! There's basically no one online who sells natural straw braid, and the hassle of calling unfamiliar millinery supply stores in New York put me off. I was therefore totally excited to realize that the hats sold by Truly Victorian were made of exactly the kind of straw braid I needed! Heather McNaughton rocks, and was so kind to sell me four of her hat blanks (basically, boring straw hats) for the price of two of her restyled hats -- I then got out the seam ripper and took apart those hats for braid. (You can do the same thing with straw braid placemats -- rip them apart for the braid).

I futzed a bit with the hat pattern to make it larger -- 1780s hats were very oversized, and I'm planning to have Big Hair with this outfit. I thought about actually doing a dry run on my hair to figure out just how much bigger it would make my head circumference, but that's so much work! So I ended up adding about two inches -- I hope that it's not too big or too small!

Making the hat is really quite easy. I cut out the brim pattern from stabilizer, soaked the straw braid in a large pot full of warm water overnight, and then started applying rows of braid to the stabilizer. I went to Lacis in Berkeley for boning and found that there are specific straw needles available -- working with these have been a dream! I was picturing that hand sewing the hat would require pliers and lots of swearing, but the straw needles make it just as easy as sewing fabric.

Now I'm waiting for the braid to dry, after which I'll remove the stabilizer, add another row of straw on the brim to reinforce it, and another around the crown to make the head size band.

Then I just need to make the fabric crown and trim it! That's the one issue -- I'm trying to make this outfit on the (relative) cheap, so that means the fabric for the crown has to come out of my stash. I'd LOVE to use a yellow or red taffeta to pick up some of the colors of my dress, but I don't have anything in those colors. The boring option would be to use the same cream silk poplin used on the petticoat (or the same striped fabric used in the overdress). I do have some striped cream/green silk that would coordinate color-wise, but I think the different stripes would clash.... not sure what to do here! I'll have to lay out fabrics next to my dress to decide.