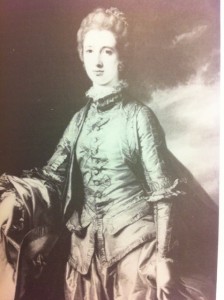 The Concept
1760s Brunswick jacket with hood and petticoat.  From the Burnley & Trowbridge workshop, taught by Janea Whitacre (mantua maker from Colonial Williamsburg).
The Fabric & Trim

Caramel (gold and light brown shot) silk taffeta, lined with linen.  Self-trim and blue-colored rayon taffeta bows.
The Pattern
Waistcoat & jacket body draped by Cynthia Howell; the rest draped by me.
Bibliography
Baumgarten, Linda. Costume Close-Up: Clothing Construction and Pattern, 1750-1790. Williamsburg, VA: Colonial Williamsburg Foundation, 1999.
Ribeiro, Aileen. Dress in Eighteenth-Century Europe, 1715-1789. New Haven: Yale University Press, 2002.
Rothstein, Natalie, ed. A Lady of Fashion: Barbara Johnson's Album of Styles and Fabrics. New York: Thames & Hudson, 1987.