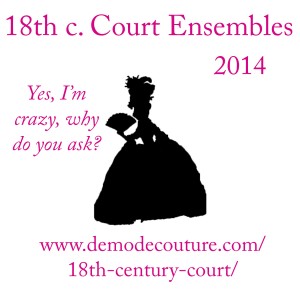 IMPORTANT NOTE! Most of us who stuck through this project completed our ensembles in 2014 and 2015. Therefore, I'm not going to add anyone else to this page. There is a Facebook group for this project, and a few people are still planning their dresses, so you may want to join there if you'd like to play along!
Want an over-the-top, crazy/huge/fabulous 18th century ensemble?  Who doesn't!  Well, I'm making one for the Costume College 2014 2015 gala, and you're invited to join me!
How It Worked
Make a court ensemble — men's or women's, doesn't matter — from any country, from any period of the 18th century.  It can be historically accurate or complete fantasy, you decide!
Want to Play?
Make an 18th century court ensemble!  The deadline is Costume College 2014 2015, but you don't need to attend Costume College to play!  Just post photos and information on your outfit on your blog, Facebook, Flickr, wherever by then!  I'll do a round-up post on all the finished outfits, and also let people know if you're blogging about your project as you go.
If you're coming to Costume College 2014 2015, then it's court dresses for the Gala, baby!
To make sure we don't end up duplicating each other, send me an email if you'd like to stake a claim to a particular outfit, whether it be extant or in a painting/fashion plate/whatever.
Participants & Claimed Outfits
Resources
I'll be blogging about 18th century French court dress over the coming year.  In addition, check out:

Fastes de cour et ceremonies royales (French Edition)

The Cut of Women's Clothes: 1600-1930

Dressed to Rule: Royal and Court Costume from Louis XIV to Elizabeth II

Magnificence of the Tsars: Ceremonial Men's Dress of the Imperial Russian Court 1721-1917

Court dress collection: Kensington Palace

Queen of Fashion: What Marie Antoinette Wore to the Revolution

Mrs. Delany and Her Circle (Yale Center for British Art)
Participating Bloggers