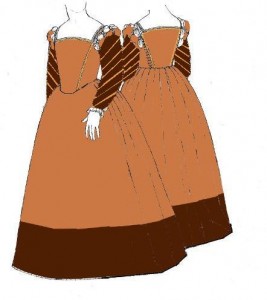 Read The Dress Diary:  Attempt #1 and Attempt #2
The Concept
A 1540s Florentine gown in the style of Eleonora of Toledo, and fun with limited yardage.
The Fabric & Trim

Burnt orange silk damask, brown cotton velvet.
The Pattern
Draped by me.
Useful Links
Bibliography
Arnold, Janet. Patterns of Fashion: The Cut and Construction of Clothes for Men and Women, c. 1560-1620. New York: Drama Book, 1985.
Landini, Roberta Orsi. Moda a Firenze, 1540-1580: Lo Stile di Eleonora di Toledo e la Sua Influenza. Firenze: Pagliali Polistampa, 2005.