So I've been being REALLY good this fall.  I work at a university, and generally early fall and early spring are totally slammed times for me at work.  So this fall, I've been consciously NOT sewing, since I'm working my tail off at work!  Why stress myself out with further deadlines?  This has been working fine… except that now I'm itching to sew!  And I can't!
What I'm really ready for is a new Renaissance Venetian gown, since Bella Donna season is heating up.  Oh yes, that's the other joy of fall — along with a busy work schedule, that's when all of Bella Donna's performances are!  So far we've done one day of the San Jose Renaissance Faire, two days at Ardenwood faire, and one day at Sebastopol faire; in two weeks, we'll be at the San Francisco Italian Heritage Parade (super fun!), and then the following weekend is two days at Folsom Renaissance Faire.
I've been planning a new Venetian costume since I FINALLY managed to track down fabric that I'm excited about.  Unfortunately the color isn't totally accurate in these photos, but look — dark red and copper silk damask!  Yay!
I've only changed my mind about ten times as to what I'm going to do with it.  I keep coming back to this 1550s Veronese portrait of a woman holding gloves.  I love the narrow gold trim, and even the crazy floral whosiwhatsits!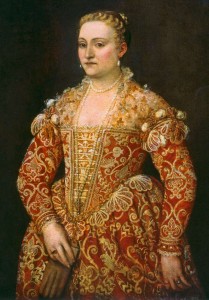 I spent a long time thinking about the so-called embroidered stomacher (which, in looking at a lot of examples of paintings with decorative stomachers, I'm increasingly starting to think were lace laid on another fabric. Except that this one does look embroidered!) and was trying to find some fabric that would work, but have decided to temporarily not worry about that.  I did find some nice vintage narrow gold trim that I'm going to use for the edging; and I'm considering making the floral appliques out of it by applying it to some silk organza or gold net – what do you think?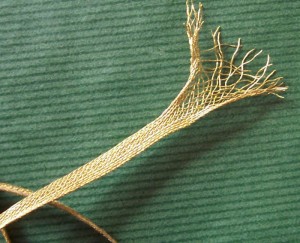 I'm thinking I will also add a neck and shoulder ruffs — I love the shoulder ruffs, since they're so uniquely Venetian.  And, since they did falling (ie not standing) ruffs, it will work with my non-period Bella Donna hairstyle!
The problem with all of this is I have literally one free day between now and the end of the Bella Donna faire season.  So, probably none of it will happen in time for this year!  I am considering whether I could get the ruffs made, and then wear them with another of my costumes.  Which brings me to — I actually have some REALLY fine linen.  Should I use that for the ruffs, or silk organza?  I can't decide!  I love the sheerness of organza, but it seems like linen would be more period, but I'm worried the linen will be too opaque, but then it's pretty fine linen, but then no linen is REALLY as fine as period linen…