adjective:old fashioned, out of style, unfashionable [from French, the past participle of démoder "to go out of fashion," from mode "fashion"].
the concept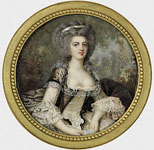 1770s robe à la turque
the fabric
the pattern
the deadline
Costume Con - April 28, 2009
the result
useful links
bibliography
Gazette des atours de Marie-Antoinette : garde-robe des atours de la reine : gazette pour l'anne 1782. Paris : Runion des muses nationaux : Archives nationales, 2006.
Galerie des Modes.
Ribeiro, Aileen. Dress in Eighteenth-Century Europe, 1715-1789. New Haven: Yale University Press, 2002.
Friday, May 8, 2009
Done, and I'm actually happy with it (as opposed to the polonaise... le sigh!). It fit, for one!

Sewing on the lace took forEVER... whew, that was a lot of lace! But I managed to create the look I was going for, so it was worth it.

I wore it retrousee dans les poches at Williamsburg in order to keep it off the ground; wore it again at the Con with the train down, but all the photos of me from that day (Sunday - long weekend, had to get up early) look like death, so we'll all just have to wait for another wearing to see that look.
posted by démodé 12:38 PM


Monday, March 23, 2009
Nearly done! I put it off for a while, but finally sat down and fixed the fitting issues... on this dress, it was easy to let out the center back, although I then had to move the en fourreau pleats as I didn't like the spacing anymore.

Patterning the sleeves was pretty easy -- just had to make a mockup to check the turque sleeve length, which is very short! And I will confess that I was sick enough of my ridiculous need to hand sew on what is, essentially, meant to be "pretty" but not "perfect" -- so I bag lined the sleeves (insert sigh of relaxation).

Now that I've managed to get my dress form to stand up... marking the hem was MUCH easier. I looked at some of the skirt patterns from Patterns of Fashion as a guide.

Here it is, nearly done and very wrinkly!
| | |
| --- | --- |
| | |
Because of the train, I'll probably be wearing it a lot retrousée dans les poches ("rolled up in the pockets"), where the front corners of the skirt are pulled up through the pocket slits, in order to keep it off the ground. So I took some pics of what that will look like:
| | |
| --- | --- |
| | |

The only thing left to do (besides a good ironing) is attaching the lace, which seems to be the only trimming ever done on this particular style (?) -- see my inspiration pic for what I'm going for. I picked up this ivory lace in the LA Garment District -- I like how it has the same sheerness and scalloped edge as the inspiration pic's lace. I think I'll use the narrow for the neckline and turque sleeve hem, and the wider for the undersleeve ruffles.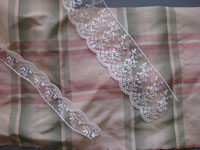 posted by démodé 10:54 AM


Tuesday, March 10, 2009
Obviously I need therapy. Because apparently my version of "banging this out" means that I am handsewing 90% of it. Seriously, therapy! Stat! Yes, I machined some of the interior seams (but in such a way that they still lie like 18th c. seams and you can't see the machine stitching, EVEN FROM THE INSIDE). I am 100%, officially insane. I need help.

Actually, I think it's because 1) I love the 18th c. and 2) I get how 18th c. construction works. If this were 16th, I'd have bag lined this sucker and called it good. (I'm the opposite of Sarah, obviously!)

That being said... progress is being made! Mostly of the making the petticoat, pleating the skirt and attaching to the bodice edge (wait, I machined 50% of that seam!), and finishing up the lining inside (hand, hand, hand).

Things are tiny bit slower because I am also working on a polonaise at the same time, and am trying to make things go faster by doing like things on both dresses... Updates on that dress soon!

I would like to report that I am LOVING my new skirt supports... so much more like what you see in fashion plates than the skimpier line I've been wearing in the past. Which was actually based on extant garment measurements (scaled up for my 5'11" body), but still. Big! Froof! Yay!
posted by démodé 11:01 AM


Friday, March 6, 2009
In which everything gets thrown off course because of a pending trip to Colonial Williamsburg, but also in which our heroine suddenly gets mad (fast) sewing fu!

I was SO set this year to not stress out about costumes. I had two big dresses (Nell Gwyn and the Marquesa de Llano) I wanted to make and tons of time to do it in.

But I've been convinced to go to Costume Con 27, mostly because beforehand a bunch of us are going to Colonial Williamsburg! Yes, for the whirlwind tour, but hey, it's exciting to those of us who live in old-stuff-is-from-the-1920s-California. So my brain has become all 18th century, all the time... add in Loren's inciting of Polonaiseville-frenzy on LJ, and I need late 18th century froof STAT.

So yes, Nell and the Marquesa are still on the docket, but beforehand I need to bang out that froof. And bang is the operative word... as I've gotten to be a better sewer, and once I judged a historical masquerade, and ESPECIALLY now that I've won a Major Award in a historical masquerade... I have a hard time allowing myself to just sew something quickly and not have it be masterpiece level. Now, I'm not saying my costumes are perfect, by any stretch. But I do know what I am capable of, and it's very hard for me to let go of what I know I can do (technically, also given enough time/money) to just be okay with making a dress, getting it done, and having fun with it. The whole time I'm having an inner monologue along the lines of, "But what if someone wants to look at my lining??!!" And I realize that I look at the dresses worn by all my friends, and I don't look to see whether they are hand sewn! I look to see if they are pretty, and fit well, and suit the period, and look nice on the wearer. But it's hard for me to give myself that permission.

All that being said, I am trying to give myself permission to bang out this dress (and another, details on that coming soon). It's hard. I have to keep having stern talking-to's with myself. But more than anything, I want late 18th c. froof for Colonial Williamsburg (in fact, I think that and the Con may be all 18th c., all the time) and I don't have a lot of time to do it in. So I could make one really perfect dress, or bang out a few nice-enough dresses and get back to the projects I really want to take my time on (Nell and the Marquesa).

Phew! All that being said... I have been fascinated for a very, very long time with the robe à la turque, to the extent that I plan to do some more research and hopefully publish a scholarly article on them (as not a lot has been written). Because of that, and the real peril of being scooped, I'm not going to include a ton of my research on this semi-obscure style here. I am hoping to teach a class on it (and related styles) at Costume College this year, so if you're interested and going stop by. But otherwise, give me a few years (given the lack of timeliness of the scholarly publishing industry and my own schedule) and you will know everything I know.

What I can tell you is that the robe à la turque is weird. And that there isn't a ton of evidence of what exactly it WAS. I have some theories, but basically this dress is going to pull together bits from various sources as well as bits from my own theories to create an amalgamated dress. In other words, I'm not going to take the few known fashion plates of robes à la turque and recreate them; I'm instead going for an impression that features some heavy suppositions. So don't think this is the only way to do things, and don't judge me if you've looked into this style and think I'm taking some liberties -- my theories ARE based on research, but they're just theories. (If you want to see a stunning exact recreation, check out Sue Felshin's pictured here).

Another phew!

My main inspirations are these:
1780s miniature from the Louvre. Obviously a turque based on the "zone" front opening and short sleeves in contrasting fabric. I like the 3/4 length sleeves (in the 1780s, no less!) and all the lace.



The classic robe à la turque sources - 1780 fashion plates from the Galerie des Modes. Contrasting overgown with short sleeves, "zone" front opening, worn over another color. Possibly worn over panniers? Center back cut in one with the skirt.
1784 fashion plate from the Galerie des Modes. Turque worn over the rounded silhouette.
Shockingly (for me of the slow sewing), I managed to bang out a good deal of this dress (and another! details soon!) over one weekend. One reason it went faster was that I based the pattern off another custom-draped 18th c. bodice pattern I've used previously; also, see above re: permission to cut corners -- many of the interior bodice seams are done on the machine (I've come up with a way to fake 18th c. style construction using the machine, altho it only works on interior seams -- still will be doing all the edging as well as the en fourreau pleats by hand).

The fabric has a wonderful story - my friend Linda found this at a (sewer's) garage sale and gave it to me! How nice is that? Granted, she seems to still be nervous since I threatened to drown her over the peach taffeta I used for my francaise, but still! So nice! (Oh, and yes, this is Not Plaid. This is 18th c. cross-striped, as in the gown at the Kyoto Museum and a few other sources). The petticoat and bodice zone are made of a barely-blush silk taffeta I found at Stone Mountain.
| | |
| --- | --- |
| | |
Of course, since all this progress I've since been back to being snowed under at work, but I am determined to pick this up again on Sunday and get back to cranking it out.
posted by démodé 4:52 PM