Saturday, August 12, 2006
Aaaaand it's the giant wrap-up post!

So I stared at that bunchy horrible waist seam for hours as I cut out trim, and finally bit the bullet and started futzing. I did try moving the bodice length a bit higher, but that didn't help (lots of unpicking, restitching, then unpicking and restitching again -- this all SUCKS when you're doing it all by hand, as that process can fill an entire evening!). Finally I put it on my dress form and started playing around, and then found that by tucking the skirt up a bit (so the waistband is pleated up on itself) and then stitching that down (as, I seem to recall, I did on my last francaise... ?) I was able to fix the problem! Yay! Except that one side ended up with a skirt wider than the waistband, so I had to take a tuck which I covered with trim (hooray trim!). I also realized I needed to face the train, so I stitched down some white linen to just above where the train would hit the ground (easy to take off and wash, or put on a new facing).

Okay, so trim -- I started by cutting self-fabric strips which I tried to gather, but gathering using hand stitches always looks like crap to me. Maybe it's because my gathering stitches are too long? There's no control and it just sort of blahs all over the place. So I quickly pulled that out and went back to the old faithful of pleating -- this time using box pleats rather than knife pleats as on my first francaise. I cut 2:1 length strips, which I folded under, then spaced and pleated up to fit; laid the braid trim on top of each edge, and then stitched down with a back stitch. I worked from Friday night through Sunday night literally straight through (we had a GBACG meeting at my house on Sunday, through which I sewed), doing the stomacher on the train to and from work on Monday and Tuesday.

In order to get the curves right, I ended up having to make templates as I'm so not good enough to freehand that. I tried and tried to draw them using various bowls and other curved surfaces, but ended up taking letters and numbers in Photoshop (S and 8) and skewing them, then printing them out huge and cutting them out. Then I drew in the lines of the trim a little narrower than they would end up in blue fabric pencil.
I did manage to eke out time to do one last try on, which was a relief as I had sewn in that above skirt waistband tuck using just my dressform as a guide, and was really worried it would be all wonky - but all was well.

Got everything done except the sleeve ruffles, which I had cut out, by the time we left -- which seems easy, right? Nope, those took FOREVER. I spent the whole drive down working on them (I wanted that really fluffy look of more than one white sleeve ruffle, so I cut two. Thought it would be easiest to just hem them together at the top, but all that did was make them stick together and look not-sheer, which wasn't the look I wanted - sigh, unpick, restitch), worked on them in classes, and finally finished them Fri. night at 12:30am. Whew!

And here we are! See my post on my main page re: my ripped stitches/train stepping on trauma -- I'll need to restitch the side back seams before next Sun. when I'm going to wear this again for the GBACG Let Them Drink Wine event. I did end up pulling up the robe (retroussee dans les poches) through the pocket holes and it looked cute, so that's how I'll be wearing it next week (outdoor event = no train on the ground!).

I'm really pleased with it -- I do think it's probably the best thing I've ever made. And I just have to reiterate that every stitch is done by hand -- hee!
posted by démodé 12:06 PM


Wednesday, July 19, 2006
Yes yes, there's been lots of sewing! Again -- big mass of taffeta in my lap! Add laziness re: website updating! Stir!

So the gown itself is done except for the hem and some fiddling at the waistline.

First up was redoing (sigh) the front edges. You know me -- I tried to live with the less-than-perfect far-too-open bodice front edges, but that didn't last very long. So I unpicked all my handsewing, then cut new robings that had a .5" seam allowance as well, then draped those to fit (using the old robings [cut in one w/ the bodice] to extend the front line, cutting off the excess) and sewed them to the bodice. The nice thing is that you stitch down the robings about .5" anyway, so this made a nice french seam.

Here's the inside of one side; the white linen ends where the old edge was: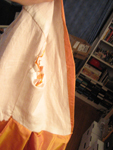 Then I resewed the robings and fiddled a bit with the waistline -- lots of backstitching. This, of course, took multiple days -- on Friday night I was back where I was at the Tuesday night before. Le sigh!

Spent the weekend working on the stomacher, and petticoat. On the petticoat, I sewed up the side seams, then put on my pocket hoops and the right shoes and quartered the waistband to pleat up. It was really quite easy and all went well, which I was very happy about! I was excited to be able to pleat the petticoat the way I thought it should be pleated (looking at Costume in Detail for examples), in particular making the center front smoother than in the petticoat I made from the JP Ryan pattern. There's a picture of just the petticoat, but I forgot to FTP it so I will post it later.

So here's where I'm at! The last thing that isn't working is I am, yet again, getting a wrinkle at the waistline. I have pulled up the skirt, and unpicked and resewed, that seam more times than I can count. I'm just not sure if I can do it again. And of course the hem -- I think I'm going to cut off the train where the folded up fabric edge is (not the fold, the cut edge) but I need to look at Janet Arnold etc. to see how I want to shape the hemline (I think it's a bit rounded at the corners, but I need to double check).

I'm not wearing my shoes in this picture, which is why the robe skirt is hitting the floor and one side is pulling open at a different angle (they really do align in reality).
I'm extremely pleased with how the skirt is pleating open and that they are fanning open to the back (but not TOO far back). I think I will tack them down so that they fan really nicely.

So now, it's on to trim land and sleeve ruffles! I have been looking and looking and LOOKING to find a dress with a trim pattern that I liked. Most 1770s gowns have the very straight trimming seen in the blue dress at the left; I was also thinking about the Marie Antoinette dress -- but I wasn't sold on either. I found lots of examples of very simple trims that worked well with all of the fabulous brocades they used in the period, but less examples that would work on a solid like I have (which needs a bit more trim excitement, imho).

Finally, yesterday I came across this lovely thing from the V&A, which is stunning in its gorgeous fabric but also has a really nice trim pattern. It's from between 1760-70, which works for me! Because the fabric pattern is so busy, it can be hard to see the trim pattern, so I drew in the outlines in black on one side. The stomacher will echo the figure 8 of bottom of the petticoat (except turned vertically).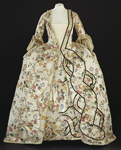 I THINK, if I am very dedicated, that I can get this all done by Costume College. We'll see.

I'm going to edge all of the ruches (and the sleeve ruffles) with the braid that I found (see my 6/30 post). I had great fun doing all sorts of dye experiments with it. Found that it dyed quite nicely, but color remover didn't work on it, so I was stuck with the green. Here's the contenders from my dye experiments (there were many that didn't work); I'm going with the peach + a little brown (3rd from left):
Finally, a question! I want to wear a fichu with this, but I really want to use a fabric that's going to be very sheer and very soft (no organza). What would you use? Silk gauze? Silk chiffon?
posted by démodé 12:55 PM


Wednesday, July 12, 2006
I so owe you guys a few posts here! I've been trucking along on the robe, but since it's mostly looked like a huge pile of fabric wadded up in my lap, there just hasn't been much documentation.

First, here's some in-progress pics of the robe on my dress form -- I am SHOCKED at how badly it fits, especially in the shoulders. Shocked, because my dress form usually works well for draping (altho granted I have to tweak the patterns). But the robe fits me, and it just doesn't fit my form! The front picture in particular shows how bad it is -- I can't even get the shoulder straps fully onto the form.
The sewing has been the easy part -- lots of backstitching. It's been the fiddling with the fit that has been the complicated part.

I cut my second front using the method Janea taught us, which is totally without patterns. Basically, I made sure all my seamlines on my fitted front were creased, then laid that front down on another piece of fabric. I pinned along the seamlines through both layers; then when I took off the fitted front, I creased the new front using the pin holes for guides. It actually worked really well and was quite easy!

The one weird thing about Janea's method is she had us drape our fronts out of fashion fabric without constructing the lining. It works, but it just seems much more logical to me to drape, fit, and sew the lining first and then drape the fashion fabric on top of the lining. Instead, I had to drape the lining to fit the fashion fabric. I actually took lots of pictures of this process, but my camera died halfway through. Basically, I just lined up the straight edge of the CF to the selvage of the linen, then smoothed the linen down and pinned along all the seamlines, slashing the armhole so that I could open up that area. Then I trimmed the edges and turned them under.
Finally was Sleeve Fiesta, which sucked a$!. Sarah, I do see where you were having problems -- I had waaaaaaaaaaay too much fabric in my sleeve cap. What I did was to pin the sleeve underneath my arm, then push up the sleeve to where it wanted to live and pin at the top of my shoulder. I then had to take out a TON at the front inner curve, as I kept getting this WRINKLE and it was evil.

Okay, so here's where we are. I'm pretty happy with things, except that the robe is open far more around the bust area than I would like -- lots of corset strap showing. I'm pinning the robe edges to my corset strap which pulls them over a bit and the robe in a bit, but it's not perfect and there's nothing I can do -- just not enough fabric there. I'm off to figure out whether stomachers were ever curved at the top (in a U shape), which I could use to cover my corset straps (altho I don't recall ever seeing this). Le sigh!

Oh, and don't worry -- most of that train is coming off.
Tomorrow, we talk trim!
posted by démodé 1:01 AM


Friday, June 30, 2006
You didn't think I would leave you hanging, did you? Alright, yes, I did plan to make this chickie offline since I'd started it that way, but then I realized that it would be pretty boring around here for the next month as I'm planning to handsew this...

However, I'm not going to be able to document the workshop I took where I learned how to make this -- too hard, and we're not allowed to post photos anyway. See my 6/26/06 post on my main page for the recap.

In terms of where I'm going with this: 1770s sack back gown, in the French style with matching petticoat and trim. I'm not sure 100% what trimming pattern I'm going to end up with -- either the dress from the upcoming Marie Antoinette (on the left) plus contrasting faux-fly fringe, or the dress on the right which is a more accurate 1770s trimming pattern (but I'm worried that everyone else in the gown workshop will do something similar, as that was the prototype style).

The fabric is a lovely gold/peach silk taffeta, which makes me feel very sherbert-y and rococo-y. Yay! Trimming will be self-fabric ruches, with darker fly fringe TBD. I know I want a dark orange/rust color. I have three possibilities:
1) I found this pink/green trim that would be perfect if it works to overdye it (what to overdye it with, though? Yellow? Orange?). It's much much brighter pink/green in person, FYI.
2) This narrow tassel braid in rust (but will it be the right color when it shows up?)
3) Or I can get the same braid in white, then experiment with dyeing it (but will it dye okay, because I don't know what it's made of).
What's done so far is that most of the pieces have been roughly cut (ripped) out into sections, the back has been pleated and sewn to the back lining, which has been boned and eyeletted (for underneath adjustment):
And one side of the front has been draped and fitted:
And the sleeve has been draped and cut out.

A bunch of us from the workshop are getting together this Sunday for more draping and fitting, which is very good because although I had my front/back fitted, when I got home my back was mysteriously loose and unfitted. Weird! I need to cut out my second front before then, so that I can have them fitted to the back. It'll be interesting to do, because we aren't making patterns for any of the pieces (since we're doing it period-style, we're doing things like pinning to match -- so I have to pin match the seam lines and waist pleat-that-looks-like-a-dart). I may end up making a pattern for the fronts if the pinning method doesn't work well.

I am planning to hand sew the whole thing (for the glory), so it may be slow going.
posted by démodé 3:05 PM