adjective:old fashioned, out of style, unfashionable [from French, the past participle of démoder "to go out of fashion," from mode "fashion"].
the concept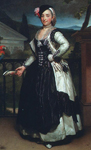 Marquesa de Llano in Maja dress by Mengs, c. 1775
the fabric
the pattern
the deadline
Costume College - August 2009
the result
useful links
Maja jacket, 1770 at the Museo del Traje
bibliography
Marsh, Gail. 18th Century Embroidery Techniques. Lewes: Guild of Master Craftsman, 2006.
Noyes, Dorothy. "La Maja Vestida: Dress as Resistance to Enlightenment in Late-18th-Century Madrid." Journal of American Folklore 111:440 (1998): 197-217.
Ribeiro, Aileen. Dress in Eighteenth-Century Europe, 1715-1789. New Haven: Yale University Press, 2002.
Tomlinson, Janis A. et al. Goya: Images of Women. Yale University Press, 2002.
Worth, Susannah and Lucy R. Sibley. "Maja Dress and the Andalusian Image of Spain." Clothing and Textiles Research Journal 12:4 (1994): 51-60.
Sunday, August 30, 2009
This project is undergoing a tweak -- I think it's going to become the opportunity for me to make one costume, inside to out, to the best of my abilities and as historically accurate as possible (read more philosophizing on why). Now, there will inevitably have to be compromises made, but I want those to be really conscious compromises. And most important, I give myself NO DEADLINE for this project. I will probably pick it up and put it down a million times.

So! I've wanted new 18th c. stays for a while, particularly something more shaped as in the 1780s styles, and was excited to see JP Ryan's new shaped stays pattern. I spent the day tweaking the pattern based on various extant examples in Corsets & Crinolines, the Kyoto book, the Salen Corsets book, and Historical Fashion in Detail. I love playing with boning patterns and layouts!

I've got three questions for y'all:

1) I'm planning to bone these with plastic boning (with possibly a bit of metal boning as well for support, which is period per Norah Waugh). I am having a hard time getting over the desire to gag at the words "plastic boning," but I have accepted that it is the best modern substitute for baleen (which, sorry, even though apparently it is theoretically possible to purchase from Inuit sellers, I have real ethical objections to). Yes yes, you're all saying "Why don't you use reed? It's historically accurate and cheap!" I'm not, because while it was used in the period, it was considered a substandard material and I am not trying to create a lower class outfit. Stays of the sort I want to make would be boned with baleen, so it's a baleen substitute I need. And I have seen the substandard-ness in action, with many friends who've made (beautiful) reed boned corsets whose tabs have broken. I'm not willing to put tons of work into a pair of stays that are only wearable for a year or so!

So given all that preamble... does anyone have recommendations for quality plastic boning? I've used metal for so long that I've never really paid attention to the various discussions. I was considering these 1/4" wide plastic bones from Farthingales LA - opinions?

2) Linen is what's period to use as interlining/support layers, but my experiences using it have been less than happy -- it stretches! Who wants stretchy stays? Any advice on how you've dealt with stretchy linen? I've got some pretty heavyweight stuff, but it still stretched when I used it for my Nell Gwyn bodice. Do you just cut it down after you've sewn in the boning channels, or pattern the stays slightly too small assuming that they'll stretch?

3) I can't wrap my brain around butting the various pieces together and sewing them. What kind of stitch do you use, and how do you make certain they can take the strain? Should I use heavy thread? And how are the seam allowances on each piece handled -- are they turned inside out like you would if you were bag lining? I've been checking Costume Close-Up and other sources, and can't find any good explanation of this process.

Any advice much appreciated!
posted by démodé 4:37 PM


Friday, February 13, 2009
My sequins FINALLY arrived today from MJ Trim -- I decided to buy some of their plastic sequins in black and oyster white. I realized that the color was the most important thing, and yes they're not made of the right material, but this outfit is all about the contrast of black/white. Unfortunately I had them accidentally shipped to my old address, so they had to get returned and then re-shipped to me... but they didn't charge me for the second shipping, which was great!

So now I need to do some experimenting with how to sew them on (luckily I've got 18th Century Embroidery Techniques to help), but first I need to get a frame. I was thinking about a tambour frame from Lacis, but then do I need something big enough to fit the entire pattern piece? If it's smaller than the pattern piece, then I'll have to move the fabric around, with some of the spangles ending up in the frame, which seems like a potentially bad idea (could scratch or break the spangles). Any suggestions for a size/type/supplier of embroidery frames?
posted by démodé 8:59 PM


Wednesday, December 31, 2008
Okay, so I asked the expert - Bjarne Drews - and he says the embroidery is spangles and nothing else. And that it's impossible to find metal spangles in black and white, which I've confirmed through some web searching.

So now the question is - use plastic sequins? Or switch the color to silver (or possibly gunmetal, if I could find that) so that I can use metal? I do think gunmetal would be a good compromise... Hmm.
posted by démodé 10:35 AM


Saturday, December 27, 2008
I have wanted to make this dress FOREVER. Seriously. Ever since I saw it in Dress in Eighteenth Century Europe. I think I have a black & white thing, plus I love the jacket, the embroidery... the only thing I DON'T like is the snood. It's too "Hi I bought a snood at renfaire!" So I think the hairstyle/hat will go. But otherwise!

The "maja" was a term used in late 18th and 19th century Madrid for a particular group of people: the majo/maja, who were lower class artistic people who spoke "pure" Castilian and wore elaborate outfits. Both women's and men's costumes were distinguished by jackets worn open, and were usually in black. The upper classes appropriated their dress as a means of being anti-French (the French being the fashion leaders of the era). Of course, if I do a French hairstyle then I'll really be doing the aristocratic-appropriation-of-lower-class-style thing... But then hey, it's exactly what Sophie (my French Lumieres character would do) - pick up a dress in Spain and have no idea how to wear it properly ("What do you mean - doesn't EVERYONE wear French hairstyles BLINKBLINK?")

So theoretically this will be my Costume College gala dress, and of course will go to some Lumieres events too!

Currently I am working on really analyzing this portrait to figure out what's going on. The main question I have is what the embroidery is -- silk, probably? Tambour? Bridget suggested it could incorporate spangles, but I feel like it's not shiny enough - what do you think? Also, do you think those sleeves tie on, or is that just decoration? And metal buttons on the front, or some sort of thread that matches the embroidery? Check out this high res image if you want to peer at it and help me out!
posted by démodé 7:02 PM