First, I played a bit more with the JP Ryan stays pattern I had chosen for this project and became increasingly unsatisfied (with the boning layouts, and the idea of using a commercial pattern). I looked again at Lynne Sorge-English's article on 18th c. stays and was reminded of the beautiful 1780s stays from the Worthing Museum (England)… which she helpfully patterns. Yay!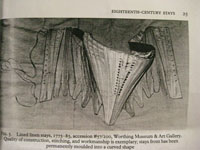 I'm going to be using this as the base pattern, adjusting it to fit me, changing the CF to be functional lacing rather than decorative, and using fancier fabric to cover — so not an exact recreation, but close enough.
So I worked on mocking these up over Labor Day weekend, and here's where the Twilight Zone music comes in. I was happily scaling up and almost done, when I realized that I had forgotten that I had blown up the pattern on a copier to 200% (I think), and so the scale I was using was off by half. So then I remeasured, and found that the CF was only 6″. Ignoring the idea that these stays were worn by a pygmy, there's no way that's possible! The scale I had them at was a CF of 12″, which seemed far more reasonable. So I continued along my merry way with the scale that I was using (all the other pattern pieces seeming reasonably sized, of course), and made a mockup, and (insert Twilight Zone music) they kind of fit me (in fact, they were slightly too big). I know. This is weird. I am a generously sized, 5'11" modern woman. WTF, I say?
Not one to question a gift horse and all that, I sewed up my mockup, discovered it was slightly too big, and then started taking it in in various places — here you can see the various stages, from "too big" to "kind of right." Note that I had waaay too little boning on hand, so only one side is boned, and even then not in every channel.
Now I just need to find some time (the next month being JAM PACKED for me) to get some better mockup fabric, make another mockup, and then bat my eyes at Jenn to get her to do a fitting on me.
Now, on to quandries:  I think I've "solved" my boning one in that I've thrown my dart as far as boning decisions go, and am sticking with the idea of using German/Wissner plastic boning (supported with some steel).  I had long conversations over on LJ about this (thanks very much to all who weighed in) and here's my logic:  I want to make as accurate a reproduction as I can.  I can't get baleen (and I'm glad I can't, because I don't want to kill whales to make stays), so therefore I have to pick what is most like baleen.  Reed/cane/wood is period, but was considered substandard and the research I've read (particularly in the Dorsey dissertation [full citation here]) says that reed/cane/wood was only used (in the US) in homemade, lower quality stays.  German plastic boning is designed to be a baleen substitute, and while it's not the same thing, it's closer in properties than reed/cane/wood… or so it seems.  Who knows, the point is I have to throw a dart, and there's no one choice, so that's what I'm going to try for this project.
But I am still in a quandry about fabric!  Obviously, linen is what is period — my research tells me that linen buckram stiffened (I forget what with – gum arabic?) is what was used in the period, and we can't get that now.  I've considered using coutil, but I'd really like to at least try to be more historically accurate in my fabric choice.  So I've been emailing with Angela Burnley of Burnley & Trowbridge who has been immensely helpful in suggesting fabrics, and who mailed me some fabric swatches to choose from.  Some of them seem a little loosely woven, or have a bit of stretch, so those are out… I had thought I had nailed it down to one of the heavier/no stretch fabrics, but then I showed the swatches to Jenn & Cynthia and they both think the fabrics are too light to support the bones/not have the bones wear through.  So, I turn to you, fabulous people, to tell me — what kinds of linen fabric have you used in your stays, and has it held up?  I have heard the suggestion to use linen artist's canvas, but that runs about $60/yard and I'd like to avoid paying that much if possible.
In case it helps, here's a picture of the swatches from B&T — I know that you can't actually feel them, which is what you really need to do: