(Yes, I am shamelessly stealing that post title from the talented Cathy Hay!)
Aiee, we're here!  In France!  In an ancient chateau, originally 16th century but restored in the 19th century, and very appropriately eighteenth-century themed inside!
Here is the lovely Chateau de Pys, in the southeast of France near Toulouse:
And we're having a blast.  So far there have been sewing circles, cocktails, Eurovision final watching parties, yummy dinners…. and costumes!  Most of us are here for two weeks, so we're spacing out the costume events to basically every other day, so nobody hits the wall.  It's so lovely to BE in the place you're going to be playing dress up — no hassle to get dressed and pop over — plus to then be able to put your pj's on and have a late night, post-corset snack in the kitchen with everyone else!  I could SO get used to this…
Our first costume event was a picnic lunch on the terrace/outside.  It's been drizzling on and  off, so we set up the lunch buffet-style on an outdoor table.  After food, we took TONS of photos, rambled about the grounds to see the nearby pond, woods, and lawns, played some ninepins, and lounged about on the steps.  As I keep repeating, This Does Not Suck.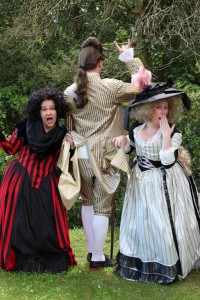 Tomorrow:  details on my redingote and wig!