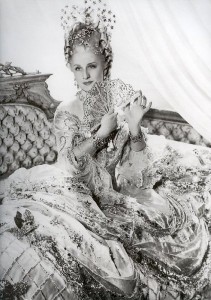 The Concept
The Rocket Dress from the 1938 Marie Antoinette, designed by Adrian and worn by Norma Shearer as Marie Antoinette — very heavily inspired by, but not a strict recreation!
From the beginning, I wanted to do this project as an early Hollywood take on the 18th century in black and white — as it would have been seen on screen. Therefore, all the fabric/trim/etc. had to be in shades of white/silver/grey/black, and I was determined to do hair and makeup the same!
The Fabric & Trim

The original dress is made in gold lame, and therein lies the problem — the kind of lame we have today does NOT look anything like the kind of fabric used in the gown (I'm guessing it's silk? or real metal?). I just couldn't bring myself to use $1.99 crappy silver lame, so I was off on the hunt for something pretty and worthwhile of a Big Sparkly Dress. In the NYC garment district I found silver silk duchesse satin for an insanely good price, plus an embroidered silver lace netting yardage, and I let the fabrics be my guide.
The Pattern
Draped by me. The panniers are made from the current Simplicity pattern, which I compared to the patterns in Norah Waugh and Jean Hunnisett and found were almost identical.
The Construction
Since the dress is supposed to be theatrical, I had a great time using what worked and was fast, so long as it was still pretty.  Elements of the gown are 18th century, while others are Victorian or modern.
I'm no Norma Shearer, so I'm wearing a Victorian corset underneath. The bodice is patterned in a Victorian style, with bust darts, and I tried to follow the lines of the original movie gown as much as possible. The back closure is an 18th century court approach, with the lacing built into the lining, and the silk layer separate and laid on top — but there are metal grommets and a placket in there!  I tried to bag line the bodice for speed, but of course things didn't line up perfectly, and I ended up having to set in the lining by hand.  All the lace appliques are cut from the yardage and hand applied.
The skirt was draped using a ginormous rectangle and Katherine's 18th c. court skirt tutorial, with some modifications for a different hoop shape. It's all mounted to an underskirt of grey cotton, with two layers of silk satin on top.
I was originally going to try to stick to the swag drapery in the original dress, but apparently I have Teh Dumb when it comes to swags, because they refused to happen (the dress almost went to boarding school because of this). Luckily, I draped the lace yardage over the dress on my form when I went to bed, and I realized in the morning that the lace was beautiful enough on its own, so went for swags of lace instead. Also, I misread (visually) the top swags to think they were a separate layer, only to later realize they were yet more applied swags, but oh well, it all ended up fine!
I covered both bodice, skirt, and wig in silver sequin star appliques, as in the original dress.
The Makeup
Initially I tried using Kryolan's Aquacolor, of which I'd heard good things, but it seriously looked like calamine lotion when applied. I ended up using Supracolor, which is an oil-based makeup and SO much easier to apply. I used white mixed with a little bit of black for grey, covered with setting powder and finishing spray. The rest of my makeup I did with grey and black eyeshadows and eyeliners.
The Wig
I started with a long silver wig, to which I added wefts where needed to (mostly) cover my hairline. It's styled over a wire frame for height, with a gazillion curls added in the same pattern as Shearer's wig in the film, plus silver star appliques.