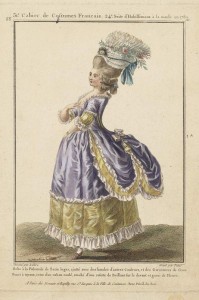 The Concept
To explore the construction of a proper robe à la polonaise, based on a current research project that Brooke and I are working on — full details TBA, once we have finished!  And to have a dress that fits over my new 1780s stays!
The Fabric & Trim

Dark red and white printed cotton (an Ikea duvet cover and pillowcases), augmented with dark red taffeta (probably not silk but high quality — bought in the "OMG it's $7/yd silk taffeta!" madness at the LA Garment District, only to get home and find out it's not silk.  Harumph), trimmed in white silk gauze or organza, lined in white linen.
The Pattern
Draped by me, based on Norah Waugh, extant examples, and period fashion plates.
The Sewing
Mostly handsewn, except for the bits I ran out of time on (some of the trim, the sleeves; oh, and the miles of silk organza that needed hemming — I'm not crazy!).
Bibliography
Waugh, Norah. The Cut of Women's Clothes 1600-1930. New York: Theatre Arts Books, 1968.