démodé
adjective:old fashioned, out of style, unfashionable [from French, the past participle of démoder "to go out of fashion," from mode "fashion"].
the concept

1909 black & ivory suit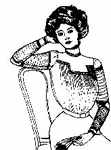 Past Patterns tucked waists pattern
the fabric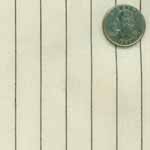 Ivory with black pinstripe linen/rayon blend (jacket)
Black linen/rayon blend (skirt)
the pattern
Rocking Horse Farm - Ladies Coat Suit
Past Patterns #405 - Tucked Waists
Past Patterns #108 - Edwardian Corset Cover
Past Patterns #117 - French Drawers (maybe)
Folkwear #203 - Edwardian Underthings (petticoat)
the result
useful links
Inspirational costume - Miss Bartlett's suit in Room with a View:
Reference:
bibliography
Grimble, Frances. The Edwardian Modiste: 85 Authentic Patterns With Instructions, Fashion Plates, and Period Sewing Techniques. Lavolta Press, 1997.
Gernsheim, Alison. Victorian and Edwardian Fashion: A Photographic Survey. New York: Dover, 1981.
Wednesday, March 15, 2006
I sewed! It's true! And I even finished something! Okay, it was just a petticoat, but I'll take what I can get.

I finally managed to sit myself down and finish this sucker. First I had to take off the lace I had added before, after finding a great matched set of black and white edging and insertion on ebay. Then I had to add the new lace, attach the flounce, and that was it -- but it took much longer than it sounds. This whole heirloom sewing thing is fiddly, I tell you.

The one thing I'm not sure about this whole myth that one can use steam to pre-shrink lace edging/insertion. That's what I did, as I couldn't see throwing this stuff in the washing machine, but I'm really not going to be shocked if it does shrink and pucker my lovely hem ruffle once I was this thing.
| | |
| --- | --- |
| | |
posted by démodé 1:11 PM


Monday, February 13, 2006



So, um, I'm done with the embroidering, with nary an update. What can I say, terminal laziness has set in!

I did pretty much all of the embroidery on the train to and from work, which was really enjoyable (now I'm wishing I had another similar project that was so easy to carry around, unlike my 1780 jacket which has fallen by the temporary wayside).

The only issue is that I used a pink pencil to draw the design -- it's supposed to work as an iron-on transfer (you first draw onto tracing paper) but I can report that while it does work, the lines are pretty blurry so I don't recommend it -- and now one of my pieces has a decided pink cast to it. And I don't think it's going to wash out. Oh well, c'est la vie!





Now I need to clean my bedroom/sewing room so I can get at my machine again, and then start assembling the corset cover.
posted by démodé 11:27 AM


Sunday, January 22, 2006
One $94 trip to Lacis and one marathon 5pm-1am sewing session later, and we have achieved corset! Yes, I'm insane... but I wanted to wear my Wings of the Dove dress to the GBACG Open House today just cause I had a yen to... but the thought of wearing my too small teens corset and being uncomfortable did NOT sound fun. Plus I got a bee in my bonnet. I'm weird that way.

It was relatively straightforward to put together -- I do have a big awl stab in one my fingers (and bled on the corset -- yay!). Forgot to buy one piece of boning so one side of one of the side seams is awaiting boning... but since I'd already put a similar corset together I pretty much knew the drill. Plus since I've invested in a grommet setting kit, that part has gotten much better (much fun to bang grommets on the fireplace at 1am! Yay!).

Not the most flattering pictures -- I look pretty sausage-like -- but it's true to the teens tubular silhouette. And, most importantly, it's A) stripey and B) SO COMFORTABLE. Wow. Right. Fitted corset = comfort. Forgot about that one!

And now I can sell my old one and try to recoup some money.
posted by démodé 5:23 PM


Wednesday, January 18, 2006
See Costume ADD in action! If it wouldn't make too much of a mess, I think I'd be working on about 10 projects right now...

I did start embroidering the corset cover this morning on the train -- all went well, very nice and relaxing.

But on Monday I decided to stop putting off (and start getting excited about) making a new version of my 1910s corset. It's time to admit defeat on the first version, which was fit over my friend Bridget's corset which we had laced WAY down, plus I thought I'd be optimistic and make it a bit smaller in case (ha!) I lost some weight. Well, it ain't happening.

So I stuck my old corset on my dress form and started draping a new one -- I've basically widened all the pieces through the bust and waist on all of the pieces except the side front. Then last night, in a fit of awakeness (maybe all that laziness has paid off and I'm fully rested? It could happen!) I cut out my coutil and cover fabric. The cover fabric is just fabulous, a white cotton satin with a narrow black stripe (stripedy! yay!) which was so generously donated by my friend Heather, who saved me the scraps from a wedding outfit she worked on at Dark Garden. I was originally worried there wouldn't be enough fabric, but it turned out there some large enough pieces that I got the whole thing cut out with no problem. Yay!

Here's some pics, just so you can see the fabric:


| | |
| --- | --- |
| | |
posted by démodé 10:32 AM


Monday, January 16, 2006
Thanks so much to everyone for your embroidery input (below)! Okay, two strands, and mark the pattern shape but don't cut until after I embroider (since none of the embroidery will be near the edge, I'm going with this plan -- I like the idea of having extra fabric to fit in my hoop).

But, of course, I need a fitted pattern first so off I went! The pattern went together easily, except of course I had to sew all those tucks for the mockup as they'd affect the fit. No problem, I listened to most of the commentaries on Titanic (very little costume stuff -- there's a few comments by Deborah Scott on at the cast & crew commentary, and a brief behind-the-scenes where you get to see lots of extras' costumes in one of the easter eggs [when Jack and Rose are going in to dinner]).

The big problem with mocking this up is that lace insertion and edging make up part of the body of this garment, including all of the armholes. So I had to draw in their widths, cut holes, and loop a ribbon through in order to see the fit. Here it is on my dress form:


| | |
| --- | --- |
| | |


All I could tell was that it was too wide, so I took it in a bit at the side seams and tried it on my real body:


| | |
| --- | --- |
| | |


The only real issue was some bunching up around the armholes, so I had to redraw a lower, wider armhole.

Then, suffering from Costume ADD as I did, I was feeling too lazy to redo the pattern or mark the pattern on my fashion fabric, so instead I started on a mockup of a new 1910s corset... but more on that soon!
posted by démodé 12:30 PM


Thursday, January 12, 2006



I'm so lazy that even attempting to write this post seems exhausting! I spent one week of vacation working on this project, and in between all the sleep and distractions this is all I managed to accomplish. Granted, I have no huge deadline and I purposefully chose a project with fancy fiddly undies, but I'm still embarassed that I've spent all this time working on a PETTICOAT. I mean, really!

I'm using the Folkwear Edwardian Underthings pattern for the petticoat. It's quite a nice pattern, as it includes provision (and lots of info) for making an heirloom-type petticoat with lots of tucks, lace, and insertion. The only problem is that it's meant to be worn mid-calf-length for modern wear (who's making an Edwardian petticoat for modern wear?!), so I had to lengthen everything.

The main petticoat has a small dust ruffle, which ends up underneath the longer flounce. The flounce has (all optional) lace insertion, tucks, embroidery, and lace edging -- I'm doing all but the embroidery (I'm sorry, I'm so not embroidering something worn at heel-level which no one will see). I've got the tucking and edging done, now I'm just waiting on my lace insertion I bought on ebay to show up before I can add that and then attach the flounce.

I'm so lazy, I couldn't even put my petticoat on my dress form for pictures. zzzzzzzzzzzzzzzz. Hey, just be thankful I actually managed to take some pictures. I had to lie down for a few hours after doing so. (I'm such a waste of space right now!)





Next up will be the corset cover, which has embroidery (yay! I'm really excited about the embroidery. Me = geek), which leads me to my Really Dumb Question. Okay, so I've got the Reader's Guide book to needlework, I've got a book on whitework, I've got all these books, but none will answer my Basic I Know Nothing About Embroidery question -- you know when you buy embroidery floss, it's made up of multiple strands twisted together? Is one supposed to embroider using all of those strands, or is one supposed to pull them apart and use (how many? 1? 2?) individual strands? How does one know such a thing -- is it just based on how thick you want the embroidery to appear? Did I miss some embroidery-strand-gene in my genetic makeup?

The corset cover has lots of tucks so I'm not looking forward to a mockup, but I want it to fit well so I definitely will be doing so. Another question, though -- do the embroidery on a big piece of fabric and then when it's done, cut out the pattern shape? Or cut out the pattern shape and then do the embroidery?

I told ya, these were Really Dumb Questions.
posted by démodé 3:04 PM


Tuesday, December 20, 2005
Thinking ahead -- as I'm thinking about this, I may as well be posting about it! Last year my sewing plans were very tied to upcoming events; this year, there aren't a lot of events that I want to sew for (either I already have something to wear and am not inspired to make something new, or I'm just not inspired -- exception being the 18th century event GBACG has planned for summer). My rationalization is that this style is close enough to 1906 that should there be an exciting costume event this April (which is the San Francisco earthquake centennial), I could wear this. And if not, then I'll wear it to Costume College and make sure we have an Edwardian event next year! This whole project will be really complicated, but the only other deadline I've got is to make my 18th c. event by June.

So who doesn't want to make this pattern? While it hasn't gotten the best reviews, it sounds like the problem is mostly with the sewing directions rather than the pattern shapes. Plus, while I've been doing a lot of draping and drafting lately, it hasn't been for tailored items and I'd like some guidance. Not only doing I want to make the suit, but I also want to finally make this Past Patterns blouse that I've been eyeing for some time. AND I've been having fits of lust for really fancy undies lately, and what better era to do fancy undies for than Edwardian? AND I really need to make a new, (ahem) slightly larger version of my 1910s corset.

Now, I'm really not an Edwardian type of girl. I couldn't do dainty to save my life. So 1908-09 is a great compromise era for me, in that there's still some Edwardian elements but with the more tailored silhouette that will develop into the 1910s style.

So, what is Ms. Costume ADD obsessing about right now? Well, I've been scouring the earth for lace insertion and edging for my undies (more to come) that doesn't break the bank but is still attractive -- thank god for ebay! And I've been worrying about the forthcoming tailoring that will be required on this project, especially the jacket. With that in mind, does anyone have any book resources to recommend on tailoring? I'm really hoping to find one book that will teach me just what I need to know, not everything. The second I start thinking about interfacing I start having heart palpitations... Any recommendations?
posted by démodé 11:20 AM