Tuesday, August 21, 2007
First step was tracing the pattern and scaling it up -- luckily it was only 4" off in the bust, so that made it relatively easy. Usually when I scale up patterns I scale the whole thing, which means that it ends up too big in the shoulders (because we don't gain weight in our shoulders, do we?) -- following the instructions in the Threads article a few years back. This time I slashed and spread, keeping the shoulders relatively the same, and it worked out much better. I looked at the finished length measurement, which shockingly sounded right for me, but how can that be? I'm 5'11"! So I added my usual 3" to the hem (most of my height is in my legs).

I really didn't want to bother with a mockup, based on my experience fitting (or not!) the last 20s dress I made. I mean, really, there's not much to fit! But a little voice kept telling me, "Just make the mockup! You'll be glad you did!" And I was glad, because the thing was too long for me! Not just waist to hem, but actually in the bodice length (ie above the waist)! Now, that's weird. I'm a tiny bit short waisted, but only really proportionally overall (ie a pattern sized for someone 5'5"-7" usually fits me fine in bodice length). Weird! But I'm glad I found that out, because the placement of the skirt insets is important.

Here's my mockup - look, it's a giant white bag! You can see in the first pic where I've pinned up the bodice length. Excitement!

| | |
| --- | --- |
| | |
Then it was on to cutting. I was really worried about working with the brown silk/cotton, as I fear squidgy evil won't-stay-in-one-place fabric - but it actually behaved itself! Using the roll cutter really helped, I'm sure.

Now, before we go on, yes this fabric is VERY sheer, and yes of course I'll be making a slip for this - but I'm making the dress first, so you get to see if fabulously accessorized with tank top and capri pants. See? Don't say I don't love you!

I wanted to do french seams to keep everything nicely finished on the inside (sheer dresses not being lined, of course). So I thought, "I'll be brilliant, sew all of the seams once so that I don't get confused about which is the right/wrong side, then trim and turn the garment and sew the second seam." Fabulous, except I didn't think about the fact that the skirt inset makes a right angle, so I sewed it in, went to turn the dress, and realized that if I made a french seam I'd end up with puckers in the dress front piece. Sigh, rip, resew. I don't remember clearly why, but I definitely had to rip the seam a couple of times... which was annoying, as I had to unpick each stitch so as not to screw up my delicate fabric.
I debated over and over about whether to use the print or the solid for the pocket pieces on the hips. I knew I didn't want to accentuate my hips, but at the same time, it seemed weird not to use the print somewhere else in the dress besides the neckline. And I thought, "My hips are going to be huge anyway. Let's slap something festive on them!" The pattern actually has functional pockets behind the skirt insets, but since this is a sheer/lightweight fabric, I knew I wouldn't use them (anything in them would cause the dress to pull, and show through). So I was able to skip the real pocket and just add the decorative piece on the hips.

I also changed my design from the original, which was just a strip of print around the collar, to doing the whole collar in the print, once I realized that that would draw the eye more toward the neckline/face area (which is important with these hips o' doom):
So I machined the collar to the neckline, then handsewed the under edge of the collar.
Ah, my breeding hips - that's a lot of real estate! It's not a J.Lo butt -- it's all in the width (my husband says I come from a family of flatworms, because we all have flat butts). Thanks mom! Hopefully the neck tie and the sleeves (which will, after all, be long, because that was the husband's vote) will distract. And a cute hat and shoes!
posted by démodé 4:16 PM


Monday, August 20, 2007
So I hemmed, and I hawed, and I wasn't going to go to Gatsby, and now I am, and the end result is that I need a dress. Not just any dress, no siree! It's the Come Hell or High Water, I'm Going to Have a New Dress for Gatsby if it Kills Me dress!

The plan:

I picked up this vintage pattern a year or two ago - I liked the design, but when I opened it up and saw the photo of the Lanvin original, I was hooked:
| | |
| --- | --- |
| | |
I mean, how cute is she? I would love to make this in very autumnal fabrics, as in the above photo, but when am I going to have an opportunity to wear it? Never! So I reimagined it as a summer dress.

Of course, it would help if I was tiny and stick thin, but I decided on all of this when I was in a, "Who cares if it looks good? It's a 1920s event and I want a 1920s dress," mood. Of course, people also wear 1930s, but I've worn 1930s once and 1924 three times (that dress being long, as hemlines were that year, which doesn't look very typically 1920s) -- and I was wanting to look very typically 1920s.

I had thought for a while that this vintage very-synthetic print (ebay find) would work well as an accent fabric (no way would I make a dress out of something this obviously synthetic!), but I needed a coordinating fabric. Luckily, a few months ago I found the perfect incredibly sheer brown silk/cotton blend at Stone Mountain.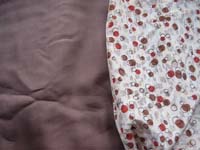 So intersperse some wobbling about whether I should really go with 1920s on these hips (which you saw on my main blog and on LJ), a realization that I already had fabric, pattern, and accessories for this, plus the fact that 1920s is easy to make because of the lack of fitting required, and we are off!

Come back tomorrow, for tales of french seams gone wrong and a photo that will make you sit up and say, "Good god, can her ass be THAT wide?"!!
posted by démodé 3:41 PM