démodé
adjective:old fashioned, out of style, unfashionable [from French, the past participle of démoder "to go out of fashion," from mode "fashion"].
---
the concept
---
the fabric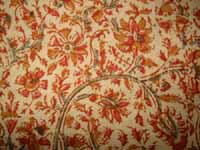 indienne cotton print
---
the pattern
---
the result
---
what's on the dvd player?
---
useful links
Painting: Florence Nightingale & Her Sister
Fabric: Dargate Book, Indienne - floral cotton prints, 1835 indienne print day dress
Real 1830s dresses
---
bibliography
Bradfield, Nancy. Costume in Detail, 1730-1930.
Fashion: A History from the 18th to the 20th Century. Taschen, 2002.
Hunnisett, Jean. Period Costume for Stage and Screen: Patterns for Women's Dress, 1800-1909.
Saturday, February 21, 2004
So I learned to love my linebacker look, made a pelerine (which definitely added to the outfit), and with the help of a few safety pins made it to the Greater Bay Area Costumer's Guild Currier & Ives ice skating party!
I originally thought I'd make one of those gauzy white pelerines that you see so often in fashion plates, but then realized this was a SKATING event -- oh right! Cold! It's a concept! So I poked around a bit looking for something a bit more winter-y and substantial and liked this pelerine best: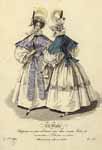 Now normally I can't stand my dress form because even though it's a Uniquely You, I just can't get it to really approximate my figure... but since this didn't have to be the world's most perfectly fitted garment, I was able to drape a pattern right on my form which made things much easier. I had a debate about whether to go with a solid colored pelerine (like in the plate) or matching, which was solved by the fact that I couldn't find a solid green fabric that exactly matched the green in the dress. So I went with the dress fabric and used solid green piping in a close-enough shade of green. I decided just to pipe the V-edge-y things in order to create a more slimming line. The piping was time consuming but worth it, and I was warm and felt more put together than I did in just the dress.
I was thinking momentarily about trying to put together some kind of bonnet at the last minute, but luckily good sense prevailed and I went hatless (shocking!). I still want to make cuffs to match the pelerine (dress fabric with green piping), plus I have a few hooks and eyes to attach, but otherwise we're mostly done here.
The event was short but fun -- I was amazed to find that I could skate after all of these years, and I felt very picturesque with the outdoor rink and the waltz music they were playing over the audio system. There were lots of great costumes and great desserts, plus it was fun to mingle with Guild and Dickens Faire people.
You can admire all of us at the
Currier & Ives Ice Skating Event Gallery.
posted by démodé 9:09 PM
Tuesday, February 03, 2004

I look like a linebacker. Ah, the joy of adjusting one's own modern aesthetic to a period one!

Okay, so sleeve puffs. I drafted up the beret sleeve from Period Costume for Stage & Screen. First try was WAY too much of a beret -- it looked exactly like the evening sleeve on the Truly Victorian 1830s dress pattern. I futzed with the pattern a bit, moving the top armhole more towards the top of the puff, and came up with something workable.

Putting them together was fun -- the first one went along just as it should. The pattern is basically a big circle with a hole cut off-center but in the middle for the top armhole. The edge of the circle is gathered and sewn to a fitted sleeve lining. The top is then gathered and sewn to the top armhole -- I found it easiest to fold the edges of both in towards each other and to hand sew the top edge. On the second one, I accidentally reversed the sleeve lining, so that the inner arm of the lining was sewn to the outer part of the puff -- made for a very interesting look when I tried it on. Once I unpicked the WHOLE PUFF and resewed it, all went well.

Both puffs are lined with two layers of netting, which really works well for making the puff stand out. I then sewed twill tape at quarters of the top edge of the puff, and the same on the armhole -- the puff is tied into the armhole using these tapes, which will allow me to use the puffs in other garments.

So... the question is, learn to love my new linebacker look or make the sleeve puffs a bit smaller (I could tack down parts of the puff so that it doesn't stick out so much)?



posted by démodé 9:32 AM


Friday, January 16, 2004

Almost there! I finished attaching the waistband lining and finally hauled out all the gear for a real try on.

One "oops" that turned out well (sorta) is that I accidentally made the waistband 1" wider than I meant to -- which is good in that the bottom of the waistband is much closer to my actual waistline (much more flattering), but bad because a waistband this wide really needs some darts or similar to make it fit (it's a big rectangle, so it's sized to be the same width at the top and bottom -- my waist is smaller than the bottom of my ribcage, naturally). Of course, I discovered this after finishing the waistband lining, and because I'm not going to unpick that PLUS unpicking the skirt from the waistband (all hand sewn), it's just going to overlap more in back.

The skirt fits well over the crinoline, the hem is marked -- next up will be some kind of pelerine. I was thinking of one of those round capes, but because I think the dress needs some contrasting color to liven it up, I'm thinking of one of those more V-shaped pelerines tucked into a belt (possibly a solid green that matches the green in the fabric?). Otherwise I'm way too monochromatic.

Then I'll finally get around to making sleeve puffs -- Teresa made the new Truly Victorian 1830s dress pattern, and she told me that their sleeve puffs are basically beret sleeves lined with two layers of netting, which sounds way more comfortable than pillow stuffing so I think I'll go with that concept.




posted by démodé 9:41 AM


Monday, January 05, 2004

While many things in my life were put on hold by Dickens Fair, having 1 1/2 weeks off from work over the holidays finally gave me some time to get sewing. A few weeks ago I attached the second sleeve, attached the waist band, and cut out the skirt panels. I'm planning on wearing this over my crinoline, so I ditched the pattern for the skirt and just cut panels wide enough to (hopefully) look good -- I went with a 125" hem circumference, but I haven't tried it on yet over the crinoline.

The skirt panels are just the standard mid-19th century rectangles of fabric (SO easy), knife pleated from the center front and cartridge pleated in the center back. My trick for doing skirts like these where you want more fullness in the center back is to quarter the waistband not at the CF/CB/sides, but halfway in between each of those points. Then fold the skirt into fifths, attaching 1/5 to the front and side sections and then 2/5 to the center back section (which, if you have a CB opening, translates into 1/5 on each side of that opening).

Because I was cartridge pleating the CB, which requires a foldover in the fabric, (and let's face it, because I'm insane) I hand sewed the skirt to the waistband. Which was all fine and dandy, until I realized that I'd forgotten that the back opening overlapped -- when I quartered the bodice, I had the center front marked off-center, which made the CF inverted knife pleats off center. Le sigh. So I ripped out the skirt, recentered it, and resewed it on.

Now I need to sew down the waistband lining, try this sucker on over the crinoline to double check that it will work, and then hem the skirt. Then it will be on to the sleeve puffs and pelerine.

These are terribly undynamic photos, as I was too lazy to actually put this thing on (there's so much GEAR involved! It's like rock climbing!).



posted by démodé 9:43 AM


Wednesday, October 29, 2003

I love piping! I piped the neckline (and used the cording in the piping to ease the neckline a bit tighter, as it was gaping a bit) and the armholes, then assembled the sleeve.

The sewing instructions tell you to cut a lengthwise piece of seam allowance and sew it to the sleeve. I had no idea why they wanted you to do this (and so ignored it!), until I tried it on and the sleeve folded over on itself -- my guess is that this is to strengthen this seam? I'm going to go ahead with my sleeve puffs and see if I need it, and then if I do, I'll probably just use twill tape.

The sleeve fits into the armscye using gauging, which is basically tiny cartridge pleating, and of course has to be done by hand -- I only got through one sleeve before my hand started to cramp. Spent last night watching scary Karloff/Lugosi movies and making lots of tiny stitches. The sewing instructions tell you to draw up the pleats, line up the raw edges with the raw edges of the armscye, and then backstitch over the pleats to sew them down. I have no idea if this would work, but I just went ahead and did what I normally do when I cartridge pleat, which is to fold over the edge before sewing the gathering stitches and to then sew down a "hinge" of the pleats (every other pleat worked out well). One advantage to doing it this way was that through sheer luck, by folding over the sleeve edge (and therefore doubling the thickness), the sleeve fit when I pulled up the gathers as tight as possible. If I'd only sewn through one thickness, I would have had to deal with spacing out the pleats evenly.



posted by démodé 9:30 AM


Wednesday, October 22, 2003

The main part of the bodice has been assembled. So far, so good, except that I cut the lining from leftover scraps of white muslin, and I must have chosen a non-prewashed piece because when I went to iron it, it shrunk! So I had to recut the lining back, but after that all went well.

I've cut out the bias strips and made piping -- next step will be piping the neck edge, then it's on to the sleeves. I want to assemble the sleeves before I make the sleeve puffs, because I want to base the size of the puffs on the fit of the sleeves.



posted by démodé 9:09 AM


Friday, October 17, 2003

I've decided to draft my own bodice (and lining) patterns for this dress. I just can't deal any more with the pushing and pulling that it takes to get standard bodice patterns to fit!

I based my first mockup on the pattern I drafted for my 1836-37 evening dress and my standard (over my corset) bodice sloper. I had to make a few small changes, like raising the waistline an additional inch (the waistband will bring it down 1 1/2-2 inches, making it 1 to 1 1/2 inches above my natural waistline when I'm done) and moving the shoulder seams a bit more towards the back. I compared the Past Patterns bodice and lining patterns to get an idea of where the fullness should be added and how much. The back was somewhat annoying, and I had to play with that a bit to get something that was vaguely attractive.

I have a feeling I'm going to look a bit like those large women in the Ingres portraits who look like stuffed sausages... As my husband was pinning me into this, he was having problems figuring out what to pin, saying, "But it's all puffy in the back!" To which I said, "It's SUPPOSED to be puffy!" To which he said, "OH! Why would you want THAT?"

The front mockup will be raised one inch (to the line where the lining front is currently at).



posted by démodé 9:24 AM


Wednesday, October 15, 2003

I've been wanting to make this dress for literally about 10 years -- I bought the pattern that long ago, but just haven't found the right fabric to make it in, and I've gotten distracted by other things. I really thought I was going to get to my red & white striped candy cane extravaganza next, but when I found the "vegetable prints" at Joann's at 50%off, I decided to make this in time for wearing at Dicken's Fair.

The pattern is for a simple, print cotton early 1830s day dress with gigot sleeves (large from shoulder to elbow, as opposed to leg-of-mutton, which are large from shoulder to wrist -- see what teaching an overview class on 1830s costume for Costume College teaches you?), raised waistline, and gathered skirt. I'll be drafting my own bodice front and back (and lining), but basing it on the pattern shapes -- and using the pattern pieces for everything else (sleeves, waistband, and skirt).

I'm also going to be making a pair of sleeve puffs -- I can use them for this, and also for any 1890s dresses that I make (my evening gown actually has stuffed sleeves, but I've found that the stuffing has compacted over time). I'm not sure how I'm going to attach them, though -- I know that in the period, they often had a petticoat with a bodice, to which you could baste the puffs. I'll probably just baste them to my chemise (any thoughts?).

The fabric is an adaptation (go Joann's to carry something to interesting -- although they told me they haven't been selling well, at least at my local shop) of an Indian print, called indienne in France and chintz in England, which were first popular historically from 1780-1800. These early ones had very large scale prints that were relatively spare (lots of background). There was a revival in popularity of many of these prints in the 1830s and early 1840s -- many 18th century dresses were remade, and new ones (that were generally busier and smaller scale) were created. The original dress used to make the pattern was actually made out of one of these, so it will be nice to make it out of a similar fabric!

I'll also be making a pelerine to go over this (I'm thinking of one of those basic, round shoulder capes), and possibly a chemisette to wear underneath (maybe one of the ones in Janet Arnolds Patterns of Fashion?). I'll be wearing this over my crinoline.

posted by démodé 4:54 PM