démodé
adjective:old fashioned, out of style, unfashionable [from French, the past participle of démoder "to go out of fashion," from mode "fashion"].
---
the concept
---
the fabric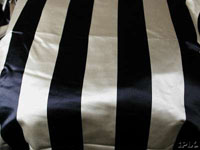 black & cream striped silk satin; black taffeta
---
the pattern
Skirt: custom drafted from Arnold, Janet. Patterns of Fashion Vol. 2: Englishwomen's Dresses and Their Construction, c.1860-1940. New York : Drama Publications, 1997.
Bodice: custom drafted from Hunnisett, Jean. Period Costume for Stage and Screen: Patterns for Women's Dress, 1800-1909. Studio City, NY: Players Press, 1991.
---
the result
---
what's on the dvd player?
---
useful links
Timeline of Costume History: 1870's
History of Victorian Costume: Natural Form, 1877-1882
Sewing Patterns: 1874-1879
---
bibliography
Arnold, Janet. Patterns of Fashion Vol. 2: Englishwomen's Dresses and Their Construction, c.1860-1940. New York : Drama Publications, 1997.
Hunnisett, Jean. Period Costume for Stage and Screen: Patterns for Women's Dress, 1800-1909. Studio City, NY: Players Press, 1991.
Blum, Stella. Victorian fashions and costumes from Harper's bazar, 1867-1898. New York : Dover Publications, 1974.
Thursday, August 07, 2003
I FINALLY dealt with this skirt a month or so ago, and FINALLY got around to photographing the result. The first two times I wore this outfit, I had massive train issues -- no matter what I did to bustle up the skirt at the hem, it got stepped on (and then ripped) many times.

I played around with trying to place the bottom hooks on the "lifting" tapes higher up, but that didn't seem to help because the skirt side backs still hung too low. So I finally just hacked off the train!

Okay, well I didn't hack per se. What I did was rip out the center back (puffed) portion and cut off the train from the side backs. I then reattached the center back portion with more pleats at the side seams, to match up to the shorter side backs. I fudged the trim on the side backs -- got it to fit by scrunching it up a bit.

And it worked wonders! No more stepping on, I can dance in it, all is well. I SO love this outfit.
posted by démodé 9:04 AM
Thursday, February 06, 2003
Some nice pictures from the Dec. 2002 Gaskell Ball with Heather:
posted by démodé 4:34 PM
Monday, December 02, 2002
Um, finished, but battle-scarred:
I had the usual mad rush to finish (I was sewing the piping on Saturday a.m.), but I had everything done on time and even managed to make it to the ball on time!

I had THOUGHT that I had pulled up the skirt in back so that it really didn't have a train (or maybe hit the ground for about 1"). I was wrong. My skirt was stepped on three times -- the first in the Grand March (very first dance), which pulled a few of the eyes off the skirt inside (which helped pull the skirt up -- the photos above were taken after that happened). After that I started holding my skirt up at the side back, but in the middle of an enthusiastic polka there was real physical contact between my skirt and someone's foot. End result was that a large section of the trim ripped off of the skirt hem at the center back.

I was pretty irritated (at myself mostly), but then looped the loose trim up over my arm and made an instant skirt lifter:
On the other hand, I got lots of compliments and had my picture taken a number of times (although one man did ask me if the bodice had originally had a different skirt -- le sigh!).

So here's what I'm thinking -- hem the side back panels (where the train starts) to ankle length. Hem the center back portion slightly shorter (so I can cut off the ripped part) and reattach the trim. Resew the center back to the side backs with more pleats so that there's no train. Resew the lifting tapes to the center back.

I'd like to just shove it in the closet for a few months and forget about it, but I want to wear it to the Christmas Gaskell ball... I'll keep you posted!
posted by démodé 4:35 PM
Wednesday, November 27, 2002
Ahem:

"Then accurately place the strips on the wrong side of the opening with the basted seam at the center." -- Vogue Book of Sewing, 1973

Yeah, thanks VBOS! If you have any great ideas on how to actually do that in reality, let me know!

My buttonholes are done, but wonky. I don't think you'll notice unless you're closeup and really Looking at my Buttonholes, but I know! I had difficulty getting them all to the same length and width, getting the teeny tiny edges to turn back appropriately, getting the "lips" to align in the center (see above), etc. Well, at least they're functional!

I think the moral of the story is this: I don't work well with tiny pieces of fabric and tiny stitches when using a sewing machine. It seems like this would all work out so much better if it were hand sewn, but that would take 3,000 hours (which I don't have!).
posted by démodé 11:14 PM
Tuesday, November 26, 2002



I've attached the sleeves and started on the buttons...

I drafted up a 3/4-length sleeve using a basic one-piece sleeve sloper. The cuff is a double layer of the striped satin, which was actually quite simple in theory and irritating in reality as I kept sewing the wrong thing to the wrong thing! It's a turn back cuff, with the outside piece slightly longer so that it turns in a bit at the arm opening.

Tonight I started work on the buttons. Covering the button forms was annoying as the fabric is relatively thick -- if I didn't trim the edges of the fabric enough, it wouldn't fit inside the button, but if I cut them too short, the edges would fray. I've marked where the buttons and buttonholes will go -- tomorrow night I'll attempt the buttonholes (eek!).

In these photos the buttons are just pinned on (I wanted to get an idea of spacing), and I'm simply holding the bodice closed:



Since I'm planning to wear this Saturday night (quadruple eek!), here's my plan. Weds. night: make buttonholes and sew on buttons. Thurs. (before Thanksgiving dinner!): finish up buttons/buttonholes, make piping, attach piping. Friday: drive up to Pasadena to buy spiral boning (I don't trust getting it in the mail in time!), case boning, attach boning. If I have time, sew raw edges of seams to the lining (not necessary as I zig-zagged the edges, but something I'll eventually do)

posted by démodé 10:44 PM


Tuesday, November 19, 2002
I've got a looming deadline (Nov. 30th), so I'm trying to hustle. I've got the basic bodice cut out and put together, with loads of finishing left to do.

Cutting out the fabric was traumatic! Usually I'm itching to get to cutting the fashion fabric, but this fabric was sooooo fabulous and I only had two yards, so I was pretty worried about screwing it up. All went relatively well, except when I was matching stripes, I matched the wrong edge of the CF portions to the center-side (meaning I looked at the CF edge rather than the side edge), but hell, at least all the stripes point up! The back pieces look great -- I matched the CB to the side-back pretty darn near perfectly, if I do say so myself.

Next I hand basted all of the pattern pieces together (striped silk, black silk organza, and white cotton lining), as machine basting usually produces some sort of wonkiness (the fabric moves and you get a weird bubble or wrinkle). This took FOREVER! I had originally planned on hand basting the seams together before machine sewing, but by this time I was getting sick of it all so I used the machine. I did have to rip out the first seam, but after that things went together pretty smoothly.

I tried it on and was slightly traumatized when it appeared to be REALLY too big, but when I figured out it was trying to ride up, all became well. It's got a horizontal wrinkle across the back waist which should be dealt with when I bone the seams.

I'm making one design change, which is that the sleeve body will be cut of black taffeta with the cuff out of striped satin, rather than vice versa. I feel like that will better tie the skirt and bodice together, as if the cuff only is in black taffeta, you might assume that it's cut from one of the black stripes. Yes, I overthink these things!
posted by démodé 3:06 PM
Sunday, November 17, 2002
Here are final photos of the skirt. I think one of the hooks & eyes in the skirt back must have come undone, as the right hand drape is looking a bit odd. Never you mind!
Here's a shot of the skirt back, inside out. The white tapes have a hook sewn to them at various points, with a corresponding eye sewn to the skirt inside. The length between the eyes on the skirt is longer than the length between the hooks on the tapes. Thus, when the tapes are hooked to the skirt, they pull up the back into swags. The black ties are sewn to the seam allowance at each side of the skirt back. These are tied together to draw the skirt front towards the back, and to make the skirt back stand out.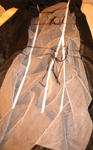 I also created a second version of the bodice mockup (which will serve as the bodice lining). I finished up the neckline and hemline, although I'm going to narrow the center back portion to look more like the original image. (I had originally thought the squares points looked interesting when looking in the mirror, but now that I see the photos I can see that it's far too widening!). This version is a little bit too big -- I took in a bit at the sides, but I'm waiting to try on the final version before I take it in any further.
posted by démodé 6:18 PM
Tuesday, November 12, 2002
The skirt is done (photos to come) and I've finished the first draft of the bodice!

I did end up creating a small bustle pad to wear under the skirt. I'm not too sure how visible it is, but it'll give my lower back the right roundness underneath the bodice. I then sewed the lifting tapes to the bodice back (photos will explain what I mean here) -- I did end up using hooks and eyes, as I want to be able to open out the skirt for ironing. Of course, Sadie (the cat) was VERY into all of the tapes flying around, so I've learned I have to tie them together when the skirt is off. Finally, I added hooks and eyes down the center back opening -- I have to say, I think that a side opening would have worked better, as the center back opening is part of the poufs, which seems a bit odd. I used black hooks & eyes and a placket, so hopefully it won't show... Even with the skirt lifted all the way up (no train), it still drags on the floor a bit in back, so I'm wondering whether I should make a dust ruffle?

For the bodice mockup 1.0, I first drafted up the bodice top (meaning above the waist) from the basic block I created using _The Costume Technician's Handbook_. I then drafted up a skirt top (just from the hip line up) and attempted a few times to "connect" that to the bodice top. It really didn't work out well (I really was never good at geometry -- I need step by step instructions!), so what I did was recut the bodice top with lots of extra length and width at the bodice bottom (basically added a triangle to all of the bodice top pieces). Then I put the bodice on, and pinned the seams and darts closed where they logically wanted to close. Luckily the back seams weren't too far towards my center back, so I was able to do it all myself. Then I had my husband mark all of the seam lines, cut the mockup apart, and I've got my pattern!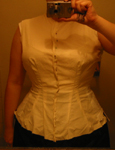 I'm going to make a 1.1 mockup so that I can get the neckline (which will be a square) and the hemline (which is a bit wonky) correct -- then I'll use that mockup for the lining.
posted by démodé 9:28 AM
Friday, November 08, 2002
More work on the underpinnings -- I realized that I was going to need more lift at the top of my skirt, so I've added one more flounce to the top of the petticoat (right below where my corset ends). I've also decided that I'm going to need a bustle pad over my corset, so I'm working on making the net-stuffed one from Hunnisett.

I've sewn in the tie-back tapes to the skirt. Once I've finished the bustle pad, I'll put in the tapes that create the poufs.

Then back to the bodice!
posted by démodé 11:33 AM
Tuesday, November 05, 2002
I'm now working on drafting the bodice pattern -- I've got the top half pretty well finished, now I have to draft up a skirt sloper and add the below-the-waist portion into the mix. I have to say, I'm STILL completely shocked when I draft my own patterns and they actually WORK. For years I've battled with commercial patterns, getting hot and sweaty and pissed off as they sort-of-but-not-quite fit -- staring at strange wrinkles in the mirror and thinking, "WHY is it DOING that?"

For this bodice, I just grabbed the body block that I drafted when I made my 1836-7 evening dress, swung the bust dart fullness into a second waist dart, moved the side and shoulder seams, and put a princess seam into the back. Voila!

I'm using the Arnold day bodice pattern as well as the second bodice in the 1876-? section from Hunnisett's Period Costume for Stage & Screen.

I'll let you know how it turns out!
posted by démodé 9:48 AM
Monday, November 04, 2002
I've been going through book after book after website, trying to find a fashion plate or original dress that would work for an evening or ball bodice. I finally settled on a Worth evening reception dress from 1877-78, pictured in Otto Thieme, With Grace & Favour:  Victorian and Edwardian Fashion in America, published by the Cincinnati Art Museum in 1993. The cut of the bodice meshes well with the original day bodice in Arnold, plus I like the sleeves with the cuff. I'm also excited about not making yet another ball gown bodice -- it'll be fun to make something different!

On the left is the Worth bodice, on the right is my design. The entire bodice body and sleeves will be made of the striped satin, with cuffs and neckline/hem piping of black taffeta. I wasn't sure about whether the sleeve stripes should be on the bias or straight up and down -- I found both on original dresses -- so I ended up choosing bias as it will be more flattering.

The buttons will be either black taffeta (or black satin), or if I can manage to find the buttons I bought at Costume College (which are currently AWOL) I'll use those!
| | |
| --- | --- |
| | |
posted by démodé 10:40 AM
Sunday, November 03, 2002
Not without a bit more hair pulling, I've conquered most of the skirt!

The trim worked out pretty well once I added the needed length. It's basically a long strip of fabric (7" high) that is alternately pleated and gathered. As you can see from the original drawing, the gathered parts flop over on themselves. You must need to put a LOT of fabric into the gathers, because I just couldn't get mine to do that! I experimented with a number of different options, and ended up doing a fan on top and on bottom. The trim is machine sewn to the skirt at the vertical gathers, and then hand sewn (just tacked, really) at the four corners of each pleated fan.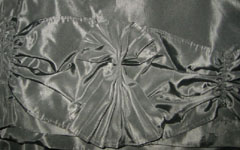 Once I had the trim on, I could finally attach the center front skirt piece. Then I hand hemmed the skirt and added a waistband. [I have to admit, I LOVE hand sewing! I think I'd be sad to have a sewing machine that did an actual hem stitch.] I need to pick up some twill tape for the skirt tie backs and the poufs, so this is a picture that approximates what the skirt front will look like (I'm holding the skirt back behind me).
posted by démodé 1:17 PM
Sunday, October 27, 2002
As suspected, further work on the skirt produced more hair pulling...

First I lined the skirt center back with two layers of netting (to help the poofs stand out -- this really worked well and I recommend it!), which I hand-basted in to ensure a lack of wonkiness. Then I put the skirt pieces together, except for the center front, as the trimming needs to finish inside of the seam between the CF and the side front.

That took yesterday and this morning. Spent the afternoon working on the skirt trimming -- I wasn't exactly sure how much length I needed, but I thought I had come up with a reasonable estimate. Spent about 3-4 hours cutting, hemming, pleating and gathering only to find I was 9" short! I thought about faking it by inserting fabric in various places, but after a break I realized that I really just wanted to redo it. I've actually figured that I can take apart the trim that I have and reuse it by adding more fabric to it, but the pleats will consequently have to move -- so I just finally unpicked all of the stitching. Live and learn!
posted by démodé 10:59 PM
Saturday, October 26, 2002
I've always known I would made an evening bodice to go with this dress. Since it appears that I'm not going to be able to make the day event that I was originally planning to wear this to, I think I'm going to make the evening bodice first. That way I'll have it by the next SDI ball on Thanksgiving weekend.

The plan thus far is to make the skirt as patterned, and the entire bodice out of the striped satin (except for the sleeves, which will be taffeta). I'm not entirely sure of the design yet, but I'm looking through fashion plates for an idea. I'd like to still make the day bodice, but there are hardly ever any day events that interest me in my area! Plus, once I finish this I'll need to get back to my other in-progress projects...
posted by démodé 12:05 AM
Friday, October 25, 2002
Say it with me now: Always Make a Mockup!

Here's the first attempt at the ruched center front panel: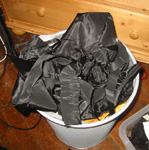 The instructions in Patterns of Fashion tell you to cut out two of the center front panel. One is the pattern shape, and the other should be just under twice the width of the pattern shape (the larger one is ruched up and sewn on top of the smaller one). I drafted up the pattern, cut it out, drew all of the ruching lines, sewed and gathered them up -- and the thing was too short! I just didn't think about losing length by gathering horizontally, but there you go! SO then I cut out a second attempt at the larger panel with 2" extra length, redrew all of the lines, sewed and gathered them up -- and it was still too short!

At this point I'd been working for about 3 hours on this and I was pretty frustrated. I didn't want to go through all of that prep work again, so I added a 4" panel to the bottom hem. It actually blends in pretty well, although I'm going to have to hand sew it to the underpanel (as the bottom of the ruching will be the hem eventually).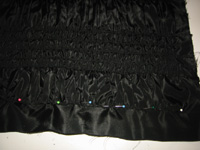 So the hard part of the skirt is done -- this weekend I'll put the rest of the skirt together and then tackle the draping on the center back panel, which I'm sure will cause at least some hair pulling!
posted by démodé 11:39 PM
Monday, October 21, 2002
I've now cut out all of the skirt pattern pieces out of black taffeta, and marked the lines for ruching on the center front. I think that's enough for one weekend!
posted by démodé 7:58 AM
Sunday, October 20, 2002
I finally got back to work on this the past week or so! First, I picked apart the petticoat (which I'd used as the skirt mockup) and put it back together using french seams. Then I recut the back piece and figured out the flounces. One change that I made was to make the top center back piece relatively fitted, rather than the fuller piece in the original pattern (which was box pleated at the center back). I want that fitted look over my bum, and then fullness below that.

The flounces were, as always, a pain -- there's just WAY too much hemming involved! I bought a ruffler attachment for my sewing machine, thinking that this would be a good opportunity to use it. Once I figured out how NOT to put my eye out (insert the soundtrack from "A Christmas Story"), I found that it's actually quite a handy little tool. However, I still haven't figured out the base ratio of how much the fabric width reduces once you ruffle. So I abandoned that for now and went back to good old fashioned gathering.

I decided after I started to attach the flounces that I wanted netting underneath each flounce, as I was worried that the back wouldn't stand out enough. Since I had already attached two of the flounces, I gathered and sewed netting directly underneath each flounce rather than sewing them on together (which I normally would have done). I put netting under each flounce, and then under the bottom ruffle in back.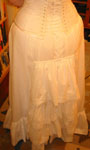 One issue did come up: from what I could tell, looking at period petticoat images in Harper's Bazar etc., is that the back flounces are sewn into the side seams. However, each flounce overlaps each other, right? So I wasn't sure how to deal with the flounce sides in the seam when I was putting an all-around ruffle on the bottom! What I ended up doing was to pleat the second-from-the-bottom flounce on each side so that it wouldn't overlap in the seam, but would still hang over. I'm not 100% happy with the result, but it'll certainly do.
posted by démodé 1:35 PM
Sunday, October 06, 2002
I was watching The Buccaneers last night, and I noticed that they made my dress! Carla Gugino (who plays Nan) wears it in one of her first post-marriage scenes. They made the dress up in a grey and white print, with white for the bodice center front, center back, and cuffs. They also made the shirred front panel in white. The only thing they seem to have altered was the neckline, which they made a square rather than the high collar. It was quite inspirational, as the dress looked really great!
posted by démodé 1:34 PM
Sunday, August 11, 2002
The combinations are done, and I've put together a mockup for the skirt!

See the 7/29/02 entry below for my review of Mantua Maker's combinations pattern. No, I'm not going to model them for you -- we've only just met!
| | |
| --- | --- |
| | |
The skirt was hard, but actually worked out okay! I drafted a skirt sloper and extrapolated from that when drafting up the skirt pattern out of Arnold. For the gores, I basically compared the ratio between the waist and hem, and then multiplied my waist measurement by the corresponding ratio. If that doesn't make sense, don't worry. I definitely put a bit too much width into the side front and side back gores -- I pinned some of it out in the pictures below, but I'm going to have to play with it a bit more.

The skirt back was FUN with all of the tapes -- they are only pinned in below. In the original they are sewn into place -- I'm wondering whether I should use hooks and eyes instead so that I can open up the skirt to iron. (I'll be making that portion out of taffeta, which definitely wrinkles when hung). I'm also wondering whether I should pull up all of the skirt length permanently -- on the original, the tapes connect to hooks and eyes which bustle the skirt up for walking. I've just never been too great at managing trains -- the one time I wore a trained skirt to a ball, everyone stepped on it all night! I'll probably leave the construction as is and just always wear it bustled up.

The skirt front, side fronts, and side backs will all become the petticoat -- the petticoat back will be a different shape, hence why I used different fabric (didn't want to waste my white cotton).
posted by démodé 7:58 PM
Tuesday, July 30, 2002

Okay, let me pose a question to you: how easy do you think it would be to find 100% cotton in a narrow black and white stripe? Not too easy, let me tell you!

I searched every inch of crappy Joann's two nights ago to no avail. So then I spent all of last night trolling through online fabric stores. I found this at eQuilter.com, but it's $7.50/yard. SEVEN FIFTY? For cotton? What's UP with that? And that's the best price -- I saw the same fabric for $8-9 at other online stores!

I can't decide if I should let go of my need for black & white striped accents on my undies, or head down to the LA Garment District (which is always such a trek). Grrrrr. It REALLY should not be this hard to find what is, in reality, a pretty darn basic fabric. It's not like I'm trying to find linsey-woolsey or anything! They do still make cotton these days, don't they?

posted by démodé 10:35 PM


Monday, July 29, 2002
I've almost finished the combinations. I have to say, this pattern runs LARGE. First of all, the sizing is not too helpful -- petite, small, medium, large, and xl. I'm always between two sizes (top vs. bottom), so I had to merge the two. The bottoms fit pretty well, but the top was HUGE! I had to take off a good 5-6 inches off each center back portion!

Otherwise, the pattern went together pretty well. I would recommend overlapping the back legs slightly where they are sewn to the bodice bottom -- hopefully no one will be seeing underneath my skirts, but better safe than sorry!

I still need to pick up some buttons, bind or pipe the neckline and armholes, and finish putting tucks into the legs. Overall, it turned out pretty cute!
posted by démodé 11:36 AM
Wednesday, July 24, 2002
I picked up the pattern for the combinations (chemise and drawers in one piece) that I'll wear under this at Costume College. I'm going to be using Mantua Maker's pattern -- I tried drafting my own out of Hunnisett and it was just too much of a headache.
I'm now having a hankering to make all of my underpinnings out of a narrow black & white striped cotton, but of course I've already bought 10 yards of white muslin. I may make at least the bottom ruffle of the petticoat out of black & white stripe, just because I think it would look so great! If you run across any fabric of this sort online or on ebay, please email me!
posted by démodé 1:52 PM


Thursday, July 18, 2002
Some of the inspiration for this dress...
c. 1876 Emile Pingat dress
posted by démodé 4:12 PM
I'll be wearing this dress to the Greater Bay Area Costumer's Guild's An Afternoon for Dreamers, which includes tea at the Sheraton Palace Hotel in San Francisco followed by a trip to see the photography of Lewis Carroll at SFMOMA. I will finally be able to indulge in my fantasy of wandering around a museum in late 1870's clothing!

Here's my plan, although there's been a bit of hair pulling over this:
The center front, center back, and cuffs of the bodice will be made in the black & cream stripe. The sides and sleeves of the bodice, and all of the skirt will be made in black taffeta. The only question is whether to also use the black & cream stripe down the center front panel of the skirt, replacing the shirred taffeta panel.

I'll also be making a set of combinations (using Mantua Maker's pattern) and a petticoat with bustle pad (based on the skirt pattern, using Jean Hunnisett's instructions in Period Costume for Stage & Screen) -- I'll be posting info on those as they come along.
posted by démodé 4:06 PM