démodé
adjective:old fashioned, out of style, unfashionable [from French, the past participle of démoder "to go out of fashion," from mode "fashion"].
---
the concept
Bet's Dickens Fair costume
---
the fabric
---
the pattern
---
the deadline
---
the result
---
what's on the dvd player?
Oliver Twist
---
inspirational images
Girl at the Fountain, 1857 (Hunt)
---
useful links
---
bibliography
Monday, December 24, 2007
FINALLY some photos to post! The hazards of wearing a non-shiny costume is you don't get many pictures taken of you. I finally brought my own camera on the last day of fair to take a few myself!

The lighting isn't good, but hopefully you can see how it all came together. I did a decent amount of distressing to it over the run - wore holes into the bodice with a metal file, put patches on the skirt, ripped holes in the shawl, and dirtied up all the pieces using Ace/Fagin's special technique of rubbing them with vaseline and then applying powdered iron oxide.

The first three photos are on a day I did particularly scummy makeup with "I've been drinking gin for most of my life" eyes.

The only other hitch came as I got really really sick for about a week, enough to lose enough weight that even with my corset laced REALLY loosely, the bodice is still too big on me.
posted by démodé 4:26 PM


Friday, November 30, 2007
Right! Howdy! I did finish this in time and it has been worn! It's still in need of distressing, but we'll get to that...

The main hitch is my lack o' camera - so you can see a bit of my costume here and more of it here (altho what's going on with my face there, I'm not sure; ignore the giant mike in front of me, we were being filmed for tv).

Everything went very smoothly in terms of finishing up, except I still have to raise the skirt and petticoat hemlines (esp. since the skirt hemline went wonky in back and is about an inch higher than the rest of the hem!). I dyed the petticoat a dark red, as it's preposterous for Bet to have a clean, white petticoat. And I solved the need-black-mitts problem by dyeing my off-white cotton mitts black.

Trimming the bodice was a bit annoying, as I followed the edge of the bodice neckline only to still have the velvet ribbon turn out asymmetrical. So there was lots of unpicking and repositioning. Otherwise, things went smoothly - I piped all the edges, found some repro 1860s buttons (at Joann's of all places!) and some plain silver buttons to mix and match for the bodice front, and I (gasp!) made machine-made buttonholes. You heard it here, folks! Luckily they're really unnoticeable (which is a good thing, as it was really hard to make myself do - of course, time is everything and there was NO time for handmade buttonholes). The sleeves were luckily very easy - just took my standard sleeve block, cut a bit off the top, and cut it off below the elbow.

The main thing left to do is some distressing -- I'm too clean right now. I used my seam ripper to muck up my hat trimmings. Next I need to add some patches and/or holes to the bodice (elbows and shoulders), and to darken the hem of my skirt as tho I've been in the muck (I'm thinking tea dyeing, or Cynthia has her hands on Ace/Fagin's secret fabulous distressing powder, so if I can track her down before Sunday I'll use that). Luckily the brown fabric in the skirt already looks kind of dingy under the lights.

Otherwise, so far, so good! I'll get better pictures this Sunday.
posted by démodé 2:36 PM


Tuesday, November 13, 2007
Tons of work done this weekend! Had to work around other commitments, but having the three-day weekend really helped.

I generally start from the inside out, so first up was the petticoat. I pulled out the gored skirt pattern that I used for my Nuremberg dress (after all, a gore is a gore is a gore) and cut 5 for the petticoat. The waistband is just a length of grosgrain ribbon; I added a big corded ruffle just under knee length.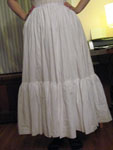 Next up was the skirt. Those who know me know that the whole gore thing was starting to get to me by now - straight panels being what would have been used in the period. So I started thinking, "Hmm, maybe I could make my skirt out of straight panels to be more historically accurate?" So I hauled out the skirt from my 1858 day dress and put it on without the hoop - eek! Hideous! Look away! Wow, could that be any more unflattering? I was the Giant Hip o' Doom! So yeah, back to gores I went.

I used 6 gores for the skirt, was lazy and didn't finish my seams (hey, French seams take forever and I have NO time here!), and slapped on a waistband. Of course, I need to raise the hem at least 2" - easy to do on the skirt, as I haven't hemmed it yet, but the petticoat will be more problematic. I'm thinking I will take off the waistband and cut off the 2" from the top, rather than rehemming the petticoat AND the ruffle. Of course, I'm waiting for my boots to arrive before doing any of this, as I need to see how that affects things.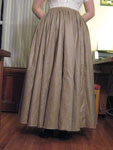 By far the most stressful part of this operation has been dyeing the beautiful brown/white tweed-y silk into green for the jacket bodice! I have literally done NO dyeing, except for a failed attempt back in high school when we ignored the whole part about adding salt (yeah, it doesn't work if you don't add salt), and then I dyed my trims for my peach robe a la francaise - but that was easy tub dyeing. This was washing machine dyeing! I have a low water use, front loading washer - and as a renter, I was terrified that I would screw up something that would mean hundreds of dollars being owed on a replacement washer. Okay, yes, I was over-worrying about this!

Luckily, it all went smoothly, and I even wimped out and just used RIT dye! Luckily Cynthia reminded me of the amber lighting at Dickens Fair and how that affects color, so I went for a lighter shade of green that I was originally thinking - used one box of forest and one box of kelly green. It all turned out smashingly, plus I dyed a boring white shirt too! Small victories.

For the bodice, I'm reusing the 1857 Patterns of History pattern, which I would again like to say that I LOVE. It just fits me perfectly! I was actually worried that something had changed, as I traced off the pattern and put it on my dress form and it very much did NOT fit. THen I realized that I had neglected to take off the seam allowance - duh. On Monday Cynthia (who plays Nancy) and I got together to fit our bodices, and there were just a few small tweaks needed on mine - yay! On a whim, we decided to keep the shaped skirting on the bodice hem, rather than going for horizontal (which would be very widening on me).

When I got home, I traced off and made the final pattern, cut everything out (LORDY does that take forever! I still say, if anyone wants to start a service where I send you my fabric and pattern and pay you to cut it out, I am so there), and slapped the bodice together. I actually planned ahead and got some coordinating green cotton to make piping, so I piped all the seams just to add a slight detail (that you'll probably never notice).

So here's the bodice sewn together, except the side seams which are pinned. Haven't pressed or clipped anything.
So on the to do list include: raise petticoat, hem skirt; press and clip bodice, add trim, pipe edges, make buttons (either fabric-covered or mismatched metal?) and buttonholes; pattern and make sleeves.

Also need to buy my bonnet this weekend; figure out hair (I bought some hairpieces on Monday only to get them home and realize they're totally the wrong color), dye my own hair; find black mitts for cheap. I think that's it? All by Sunday - and Saturday afternoon I'll be at my mother in law's birthday party, so it's going to be a lot of late nights for me this week!
posted by démodé 12:27 PM


Friday, November 9, 2007
So, crazy woman that I am (who swore that once Ren Faire season wrapped up, would calm down, drink tea, and relax) decided to audition for a part at this year's Dickens Fair. I performed at Dickens a few years ago with Fezziwig's (dancing), which was fun but I got sick of dancing with people who couldn't dance (yes, I'm the Grinch) and there was little to no acting going on (which is what has been working for me lately). I'd always had a yen to play scum, and thought about the part of Bet (Nancy's best friend in Oliver Twist) -- fun part (get to be a low class pickpocket) but small part (no desire to have the responsibility of a Big Part!). So when the role of Bet opened up, Cynthia (who plays Nancy) talked me into auditioning (terrifying!) - and I got the part!

That means, bien sur, that I need a new costume! And oh dear, I need it in the next 1.5 weeks. Uh huh. And then all my weekends through Christmas are scheduled. Right - tea, relaxation... I guess that'll happen in January (at which point it'll be Costume Con sewing crunch time...).

So fair warning - this is going to be a very theatrical costume. If that gives you the heebie jeebies, look away now!

You can see the design, and a bad color version, over there on the left under "concept." Cynthia, amazing person that she is, gave me 13 yards of a beautiful light brown/white tweedy silk suiting. The skirt will be made of that, gored (no, not accurate, but it's the look most lower class woman at Dickens seem to wear), and just above ankle length -- with one petticoat underneath. Bodice will be jacket-y -- a very 1850s style, but reminiscent of a late 18th c. look too -- with a skirting and 3/4 sleeves, square neck, buttons up the front. Probably the same fabric dyed green, although I'm an inexperienced dyer, so if it doesn't work out, I'll buy a few yards of green fabric to make that. Add to that a brown wool felt bonnet, black boots, black mitts, and probably my red wool shawl. Maybe a few patches involved?

This is my main inspirational image (Girl at the Fountain, 1857):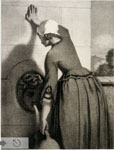 ...altho I want to be sure that I don't end up copying Sarah's amazingly stunning Gothique dress.

So far, I've got the petticoat gores cut out, and I've ordered the Fugawee Victoria boot (which has the benefit of having a totally flat heel - my usual mid-Victorian boots have a 1.5" heel, and I'm trying to avoid towering over everyone else in the Twist cast). Tonight is going to be massive sewing night, during which I'm hoping to bang out the petticoat and skirt. Then later this week, the bodice (which I did start draping, based on the 1857 Patterns of History pattern, but haven't gotten very far).

That is all!
posted by démodé 8:17 AM