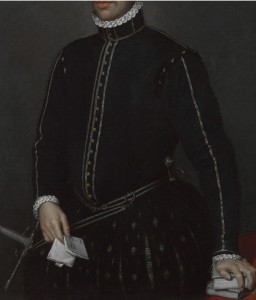 Read The Dress Diary
The Concept
Oh my, it's MENSWEAR!  A 1560s Italian gentleman's oufit, including:
Shirt
Doublet
Trunkhose
Canions
Hat
The Fabric & Trim

Doublet, trunkhose, and canions made of black wool flannel.  Trunkhose lining and doublet buttons in dark silver silk damask.  Doublet trim in dark silver.
The Pattern
Tudor Tailor Elizabethan Peascod Doublet & Trunkhose
Useful Links
Bibliography
Arnold, Janet. Patterns of Fashion: The Cut and Construction of Clothes for Men and Women, c. 1560-1620. London: Macmillan, 1985.
Mikhaila, Ninya and Jane Malcolm-Davies. The Tudor Tailor: Reconstructing 16th Century Dress. Hollywood, CA: Costume and Fashion Press, 2006.