Remember this plan to make Mae West's costume from I'm No Angel? Well here's how it turned out!
I took the sleeves off the maxi dress; made a back-and-sleeves only kimono from the spiderweb mesh, leaving off the train for practicality; cut and styled the wig into a 1930s-esque style; and wore about 50 pounds of makeup (including gluesticking out my natural eyebrows) to make me work as a blonde! Specifically, I adapted the 1920s pincurl style from the Vintage Hairstyling book, and did a slightly-more-eye-makeup version of the Jean Harlow from the Vintage Makeup book. I highly recommend both books!
Here's how it all turned out, including a Fun With Photoshop B&W: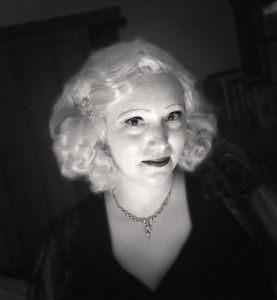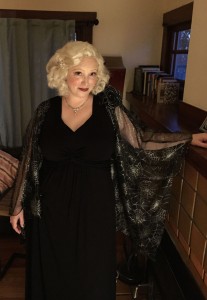 Bella Donna did a 1930s Hollywood theme for the event, and Sarah posted a good write-up about all our costumes over at Frock Flicks.