As previously noted, the GBACG is having what should be an amazing Titanic event.  While I'd love to make something new, money is tight enough that I really shouldn't be spending money on yards of silk.  And, shockingly, I tried on my 1910 Lady Maud evening dress and it still fits, and since I've only worn this ONCE, I really should wear it again!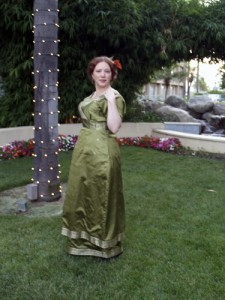 But now I'm trying to figure out the bling issue!  I've been vacillating between a few concepts:
Concept 1:  Super bling in a period style, like that worn here by Queen Sophia of Greece in 1915: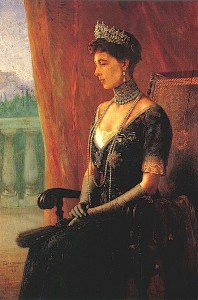 The problem is I'm having a hard time finding a good, wide choker that's NOT pearls.  Pearls are nice, and they're period, but they're not exciting me right now.
Concept 2: Indian jewelry.  Did you know that of all modern cultures, Indian women have the best clothes?  Seriously!  And their jewelry is pretty kick ass too.  Given that my dress is made from a sari, and the Delhi Durbar of 1911 inspired lots of Indian influences in the fashions of 1911-12, and given that modern Indian is faaabulous and quite affordable on ebay, I thought of going full on Indian — hey, I could be returning to America from India and the Durbar!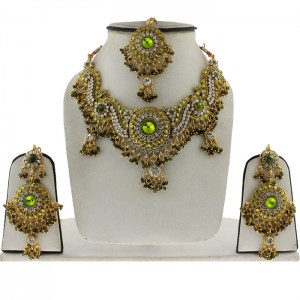 Combination #1: white Indian jewelry. Then I came across this white Indian jewelry set, and I thought it might be a great merger of the two ideas — choker, bling, Indian: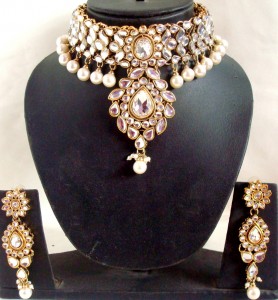 But what about headgear? I was initially thinking of trying to make some kind of bandeau, like this one from Vogue: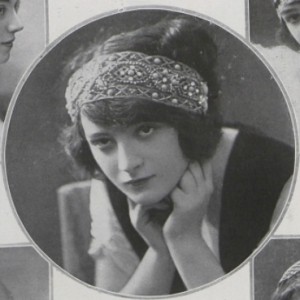 However, the Indian sets come with a piece of hair jewelry that's really gorgeous, but a different look — the maang tika, which hangs over the part and onto the forehead (ok this lady doesn't have a center part, but you get the idea):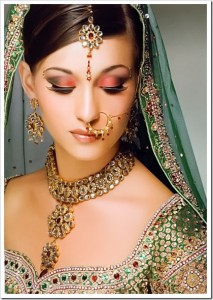 But then I found this tiara on ebay and it's really calling to me — but it's silvertone, not gold, and the Indian jewelry sets are almost all goldtone!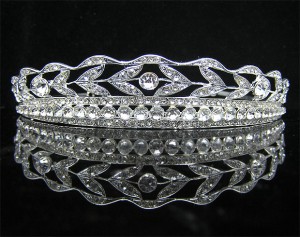 First world problems, solve them for me.  Go full Indian?  Combine goldtone Indian with silvertone tiara?  Ditch the Indian idea and keep trying to find some kind of non-cheesy rhinestone choker (which could be impossible)?  What's working for you?