So I leave for Paris in one week — EEK!  I realized this the other night and thought I'd better get my butt in gear in getting everything ready.  I'm not making anything new, but because these should be the Best Costume Events Evah! I want to have some great accessories.
I'm putting together a couple of elements for the ball, but I didn't have any ostrich feathers in colors I liked.  Quelle horreur!  I did have some gold ones, but when I held them up with some white for contrast, they suddenly looked all natural/beige-y, which is not a look I wanted.  I remembered that you can dye feathers with Kool-Aid, so off to the grocery store I went!  Here's what I ended up with — original gold color on the left, the same gold covered with Black Cherry Kool-Aid: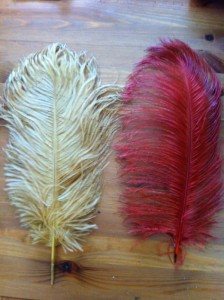 I also want a fabulous hat for the day event.  I'm bringing a really huge pouf because, hey, it's FRANCE!  And I don't have any good hats that fit over that.  So I took the hat that SHOULD have been made to go over a 1770's pouf, but got sidetracked into a 1780s style — and which I have never worn.  Obviously it wasn't meant to be!  So I pulled some of the trim off and reshaped/retrimmed it.  I had a HARD time figuring out colors.  It's going with the red & white polonaise, and the only things in my stash that worked were blues or greens.  I ended up going green — it's not perfect, but I wanted something a little more pastel because that's what feels appropriate.  The vintage glass berries are there to tie in with the dress — hopefully it will work!