Would you believe it, I sewed something! It was crazy around here! The Greater Bay Area Costumers Guild held a Game of Thrones event at Castello di Amorosa, a winery in the Napa valley. Now, I like Game of Thrones — I watch the show religiously, although I can tell that the books would drive me crazy. And I like the costumes, although I don't love them. But when the event was announced and so many of my friends wanted to go, I decided to go too!
First I had to pick a character, and I started with and wandered off from and came back around to Melisandre. Long red hair, witchy, and age-appropriate. I briefly considered going as "Old & Fat Sansa," but, nope!
I decided to base my costume off of this image of Melisandre — I liked the darker color of her dress and hair versus her earlier tomato red looks: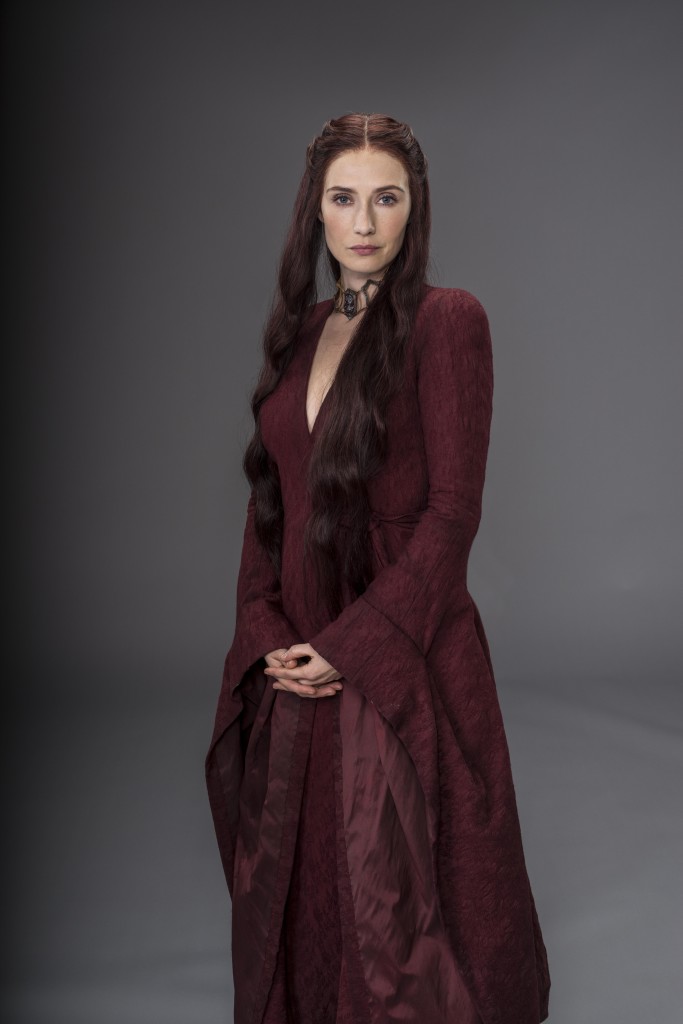 I needed to do this on the cheap, so I bought the Simplicity pattern and some cheap wool that I figured I could dye. So I dyed it, and while it dyed some, the color wasn't deep. So I redyed it. And redyed it again. And it never deepened. Bastards. Maybe it wasn't 100% wool, maybe I had the dye mix wrong, who knows. So off I went to Joann's where I bought MORE fabric — this time a cotton upholstery damask in the right color — and thus negated my ability to make this cheaply. Don't you hate that? Luckily I found the lining fabrics in my stash.
Like I said, I used the Simplicity GoT pattern and it went together swimmingly, except for two things. First, I made a mockup like a good little costumer. I traced off the pattern and went to pin/sew the muslin pieces together, and none of the seamlines matched! What the hell, Simplicity? The one thing we count on the big pattern companies for are patterns that work! Then I realized that it's been so long since I'd used a commercial pattern that I forgot to remove the seam allowance. Oh. Duh.
As I was cutting out the dress, I realized that the Simplicity pattern calls for a faux-wrap front. The bodice wraps over, but the skirt doesn't, and it closes at the side with zipper. Well, that seemed like more work than it was worth, plus I'm all about making things size-adjustable these days, and that's the whole POINT of a wrap dress! So I cut an extra front skirt panel out of matching solid cotton as an underlayer.
The whole thing is mostly machine-sewed and very good-enough-for-government-work. Only lined where it shows. Edges faced. Hem winged (as in, didn't mark it precisely, just evened it out and called it good).
For the wig, I went with the Melisandre by Dolluxe. As others have noted, it's way too curly but otherwise good. I even spent the time to straighten it the night before the event, and it STILL was too curly. Oh well, don't care that much!
Finally, I bought her necklace from Spirit Halloween store. It was CHEAP ($15ish?) and amazingly good quality. I thought at least the center jewel would be cheesy, but, it was fine! The only annoyance is that the poky bits on the bottom of the necklace ARE poky in real life.
So here's how it all came together:
The event itself was fun, although short. The main problem is I had an off-day for the stomach, which wasn't helped by wine, so I wasn't in full Bouncy Kendra(TM) mode. Also, the winery doesn't do food, so the event was a cellar tour, wine tasting, and time to run around and take pictures, but I wanted something MORE. We went to another winery for lunch after, but it was PACKED with normies and I'm pretty much over hanging with normies while in costume. I want magic, not questions.
Castello is an AMAZING location to take costume pictures, particularly for this era. It's a modern recreation of a Tuscan castle, and many of the building supplies (like, the stones) literally came from castles in Europe.
And there were tons of lovely costumes, fabulous people, and fun locations:
I just wish I had felt better! I am determined to go back for a bigger (as in longer) private event, no matter the cost. And hey, now I have an easy, comfy costume for Costume College day-wear!