Howdy! I haven't forgotten about this here dress diary, I've just been so busy SEWING that it's hard to pause to blog! The bulk of the base dress is done, and I'm now in the hemming yards of organza and fiddling with things stage. But today I want to talk about the bodice!
And… I wrote that like a week or two ago. I'm clearly never going to get around to posting if I wait to make the post exactly what I want! So here's the abbreviated version:
Most French court bodices were fully boned, with fashion fabric mounted on top:
But there are two late, 1780s sources that lead me to believe that an unboned bodice was an OPTION:
This court bodice that probably belonged to Marie Antoinette dated 1780-7 at the Musee Galliera. It's unboned, although it has a front busk pocket. This was my primary reference for draping.
This fashion plate from the Cabinet des Modes, 1786, showing a court ensemble, where the bodice is called a "corset," which at the time meant an unboned, soft bodice — NOT a "grand corps," which was the term for a boned court bodice.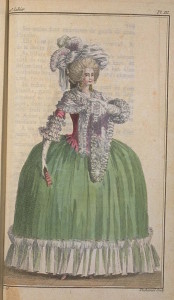 Me haz no time, so I went with an unboned version!
Draping it:

I'm using the very-18th-century approach of faking the over/underbodice effect. So the back is in purple, the front in white, and then there's an overlayer of purple in front.
Here it is without the front overlayer:


Onwards!