Pre-orders for the 18th c. hair/wig book are going swimmingly — I'm only $750 away from my goal!  Of course, some of that money is for shipping, so fingers crossed I'll go OVER my goal and then I'll REALLY be able to license images up the wazoo!
But in other news, there are two cool things coming up that I wanted to tell you about!
Bal di Carnival
The first is that my local costuming organization, the Greater Bay Area Costumers Guild, is putting on a REALLY fabulous event that you should think about attending:  the Bal di Carnivale, on February 8 in San Jose.  Seriously, this one would be worth flying in for (Southwest flies to San Jose! I'm just saying!).
The event is set in 18th century Venice, and costumes should be 18th century, and CAN be fancy dress/carnivale costumes.  With no time to sew and wardrobe full of 18th century, I'll be wearing my Maja fancy dress costume, a big wig, and a harlequin mask.  Actually, the mask is the one element of the painting that I ran out of time to recreate, and I was initially thinking this would be the perfect opportunity… until I realized a full face mask and eating/drinking won't go well together. Bastards!
The venue is a hotel that is supposed to be gorgeous.  I haven't seen it, but all my San Jose friends said "ooo!"  There will be a five course Italian meal, wine, and dessert. And for entertainment, the Dolls of Doom will be performing — professional acrobats!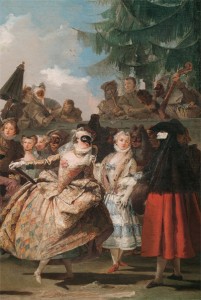 New 18th Century Dress Pattern
Any day now, Hallie Larkin and Stephanie Smith of The Hive/At the Sign of the Golden Scissors will be coming out with a new 18th century dress pattern.
Hallie is a very respected costume researcher and costumer based in New England.  She and Stephanie are coming out with what will be the first of many patterns — the first one for a 1760s-70s fitted-back English mantua.
Why is this exciting?  Because they are approaching the pattern from a historically accurate point of view!  Not only is the gown drafted from a real historical piece, but most importantly, the sewing instructions are going to walk you through how to construct and hand-sew the dress in a period correct manner.  This is the first source that I have heard of that will actually walk you through the process, step by step.
And, the dress looks really pretty!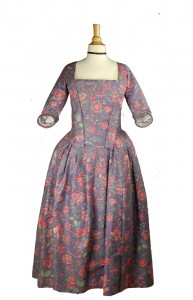 I'm not positive if they are taking orders yet, but they will be any day now… and when they do, you can order the pattern here.  You can read more about the dress project in various posts on Hallie's blog.