Oh god, I'll never catch up with stuff if I wait to do posts about each individual thing, so here, minus The Book, my life the last few (many?) months!
I went to a 1920s Circus Picnic, for which I turned a shitty polyester prom dress from ebay plus a bit of a sari into a circus costume inspired by a picture of my great-grandmother. I forced myself to do the worst sewing job ever on it, since it was such a throw-away costume, and I looked pregnant in it (note to self: stand up straight!), but I had fun!
I performed at Pirate Fest with Bella Donna (as the House of the Rising Sun — New Orleans tarts), for which I made a quick wig based on the Balloon style from The Book. Accessorized by a faaaabulous hat by Jenn.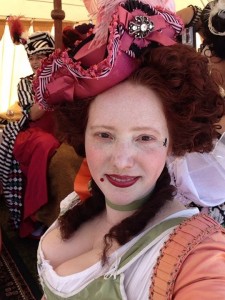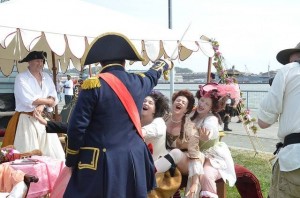 And I prepped for, went to, and recovered from Costume College, but like everyone else, I'm waiting on professional photos for that post! I no longer bother to take good pics of myself, since I know the professionals can take such better ones. So yeah. More about that soon!
OH, and Frock Flicks is back. After years of my poking them, Trystan & Sarah have finally gotten excited about this again. We have a website. And a Facebook page. And a twitter. And will be recording a new podcast in the next week or two.