First it was the 18th c. Maja costume, now I've been struck by the Victorian fancy dress bug!  A year or two ago, people were passing around the link to this fabulous 1880s book full of fancy dress (ie what historical people wore when they were "in costume") costume ideas.  And then this summer, Jen and Loren made SUPER fabulously cute fancy dress costumes (telegraph and harlequin) for the CoCo gala.
Suddenly, my SUPER busy season (ie mostly Bella Donna/faire performances) is over (which I promise to post about very soon), the PEERS Vampire Ball is coming up in a few weeks, and I've got the time and urge to sew!  However, I kept looking over my planned costumes list and either nothing grabbed me, or it was something that I didn't want to bang out in a few weeks.  So I hemmed, and I hawed, and suddenly I thought of that fancy dress book, and Jen and Loren's super cute costumes, and realized aha!  I would make a fancy dress costume for the Vampire Ball, and hey, then I'll have something fun to wear when I visit Dickens (mid-Victorian being a total snoozefest to me these days).
So I read all through the fancy dress book, and looked at a ton of fashion plates, and settled on the idea that had caught my eye way back when I first skimmed through the book — champagne!  There are a lot of fabulous fancy dress concepts out there, but I wanted something that modern people would understand (for example, I kept loving all the "folly" illustrations, but would people know what that was? and there are tons of historical characters, but I worry that Victorian ideas of historical costume would just read as badly designed/research costumes).  Okay, no idea if people will get champagne either, but at least they know what it is I'm talking about!
So then I started looking through a gazillion fashion plates and here's what I settled on (commentary in captions will be missing if you're reading this on LJ, you may want to link to the post on my site if you care):
I'm planning to use a lot of stash materials for this project.  I have 2 yards of bottle green silk shantung, so that will be the front/side base of the skirt.  Then I have a ton of white cotton velvet, and I spent the weekend dyeing it — first 4 packets of Dylon dark green dye got it to a medium green, then I overdyed it with black for a darker green but ended up w/ a darker blue (wth?), then overdyed it again with RIT dark green and finally got the forest-y shade I wanted.  I bought 2 yeards of a pink-ish gold silk shantung from Mood Fabrics — I'm hoping this color will work on me, since most yellow-y golds wouldn't: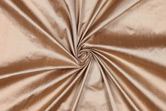 Now, the final problem has been trim!  I LOVE the balls in the original fashion plate, but I'm having a horrible time finding something to match.  I'm picturing just strings of large gold balls, but they are shockingly hard to find!  Here's my options:
And, I just recently had the idea to look for gold ball buttons and see if I could string those… what do you think?  Again, I'd like it to read as champagne bubbles!