Because this ensemble is in white, I don't know how riveting all these various pictures are going to be.  Apologies!  So, as mentioned in my last post, I'm going to be making this polonaise jacket and skirt.  Because what is better for running around the garden of a French chateau, I ask you?
Before Christmas, I draped the bodice and took it to my mom's house so I'd have some hand-sewing to work on.  I've been debating exactly what I want to do for the underbodice effect — period options include a false waistcoat, separate waistcoat, or a stomacher.  Since I've done the false waistcoat a number of times, and I like the idea of a solid front "underbodice" (ie no center front closure), I think I'm going to make a separate stomacher.  But for fitting purposes, I initially made the lining close CF, so I could be sure everything fit well.
Here's the extant jacket I'm copying.  It's a good example of the fact that there are numerous variations in the vertical pleating of the bodice — this one only has one pleat at the side front, unless something's hidden under that sleeve, but I don't think so:
I've seen many variations in these pleats, which are what allow you to get some level of fitted-ness.  I found that, with my high waist to hip ratio, I needed something more at the side or side back, so I ended up pinning in a pleat at the side which gives the jacket some shape.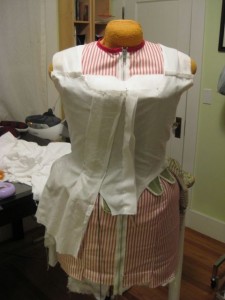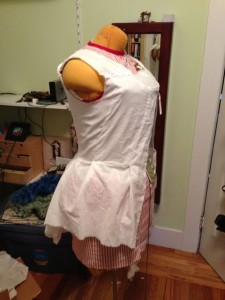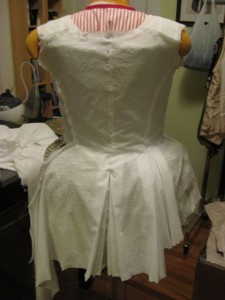 Then during the holiday I managed to get all of that sewn down into place: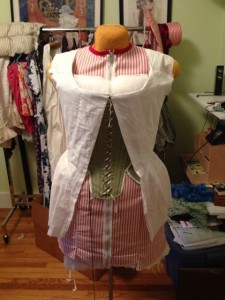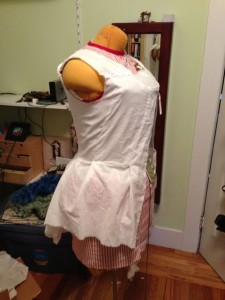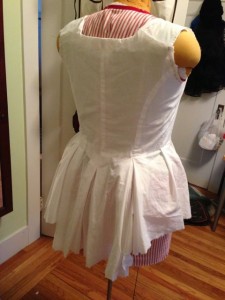 It still needs a hem and sleeves, obviously!