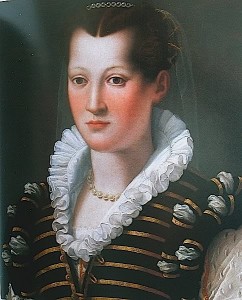 The Concept
A c. 1575 Florentine ensemble:  veste (overgown) and petticoat in black and white for Sarah's laureling ceremony. I was an attendant for Sarah's ceremony, and chose to dress in Florentine, and in her colors of black and white, to coordinate with her.
The Fabric & Trim
The veste is made of black silk duchesse satin, trimmed with rows of vintage gold braid. Sadly I ran out of enough gold braid to also trim the collar and sleeve rolls, which are in the same black silk satin; the rolls are lined with white silk taffeta and silk organza.
The sleeves are in black silk taffeta, and the petticoat in white silk taffeta.
The partlet is in fine white linen, with antique cotton lace.
The Pattern & Construction
Sarah draped the bodice, which looked gorgeous in mockup, but when I went to sew it up was missing a good 2″ in the shoulder area! I had to add in a strip of fabric and trim at the shoulder seam, which then made the neckline weird, so I extended the collar in front to fill in that space — luckily given the fact that the collar is worn open, you can't see it.  I mostly machine sewed the bodice, but did most of the rework by hand.
The veste skirt is knife pleated following the pattern of Eleonora di Toledo's burial gown, with cartridge pleating at the center back. I had originally cartridge pleated the whole thing, only to find that it hung wonky and the cartridge pleating was too spaced out to be attractive. I could have tried cartridge pleating again with narrower stitches, but because I wanted to be sure that the skirt hung correctly, chose to knife pleat around to the side back so I could perfect things.
The sleeves and petticoat are basic and meant to be swapped out for other options in the future. Unfortunately the sleeves ended up a little bit too short at the top, as I used the pattern from my Venetian gown, which has lower shoulder straps. I basted the sleeves to the sleeve cap but they ripped out! I will have to add some more fabric to the top of the sleeve if I rewear these.
The partlet is hand sewn from fine white linen and trimmed with a ruff made from antique cotton lace.
Useful Links
Bibliography
Arnold, Janet. Patterns of Fashion: The Cut and Construction of Clothes for Men and Women, c. 1560-1620. New York: Drama Book, 1985.
Landini, Roberta Orsi. Moda a Firenze, 1540-1580: Lo Stile di Eleonora di Toledo e la Sua Influenza. Firenze: Pagliali Polistampa, 2005.