This past weekend was 12th Night for the SCA West Kingdom, and my super good friend Sarah received the Laurel award!  The Laurel is kind of like a lifetime achievement or master-level award in the SCA for arts & sciences; she received her's for costuming.
Sarah asked me to be an attendant in her ceremony, so both I and Trystan decided to make outfits to coordinate with Sarah's. Originally she was planning to do 1560s English, and I was all set to make a dress worn in a portrait by Mary I, but then she changed her mind to Florentine. I went through my image files and Moda a Firenze and found myself most inspired by this portrait, which worked perfectly because Sarah's colors are black and white: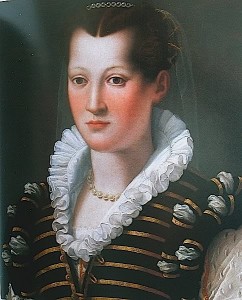 Trystan and I both wanted to distinguish our costumes from Sarah's, so since she was doing a black veste (overgown) and white sottana (undergown) with sleeves that would show, we contrasted with black sleeves. Don't ask, I overthought this!
I was super happy to be able to use fabric from my stash – a black silk duchesse satin that I bought on sale about 5 or more years ago and just hadn't found the right project for yet.  I had promised to sell some of it to Trystan for an 18th c. costume she wants to make, but we did the math and found I had enough fabric for her and me if I made the sleeves out of another fabric.
No, I didn't blog about the costume, because terminal laziness set in!  I am a bad, bad blogger… try to forgive!
Luckily I had two weeks off around Christmas so I set to work. Here's a writeup and pics of the final costume, which I LOVED — I felt evil and badass, and I'm excited that I can swap out the sleeves and petticoat for a new look:
Sarah's ceremony was really wonderful and we all got verklempt!  She had a fun vigil (ie party) on Friday night, and the ceremony itself was really beautiful — the choir sung a gorgeous Italian song, there was a parade of SCAdians in 16th c. costumes, and the various people who spoke were really quite touching in their praise of Sarah and her work in the SCA. Yay!
The rest of the day was spent alternately flopping and socializing. I've been to two 12th nights before, and I saw even MORE pretties at this one than I have in the past, so I had a lot of fun costume-watching! The evening ended with Trystan and I at the bar creating our own SCA drinking game (don't ask) and then a PJ party in our room with some peeps. Good times!
I didn't take TOO many photos — mostly they are from when we were waiting around for the ceremony to start — but here they are!